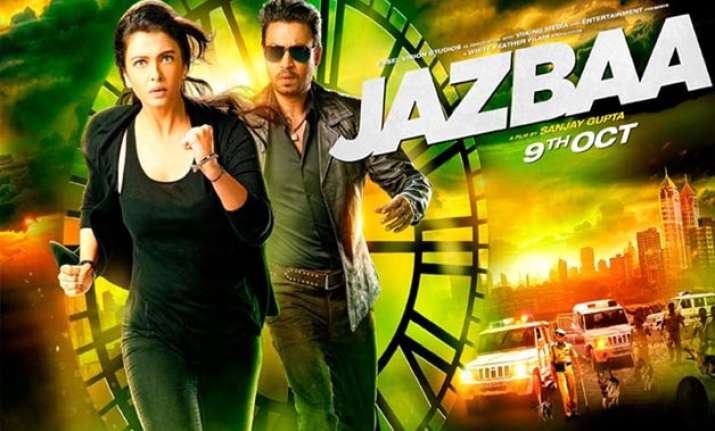 Cast: Aishwarya Rai Bachchan, Irrfan Khan, Shabana Azmi, Chandan Roy Sanyal, Atul Kulkarni, Jackie Shroff and Sara Arjun;
Director: Sanjay Gupta
Rating: **1/2
Sanjay Gupta's love for foreign cinema is an open secret.His immensely popular Kaante drew heavily from Reservoir Dogs and The Usual Suspects,  Musafir was a take-off on Oliver Stone's 1997 thriller, U Turn, Zinda was inspired by Oldboy and Gupta's latest offering Jazbaa is an official remake of South Korean thriller Seven Days.
The film tells the story of a hotshot lawyer Anuradha Verma (Aishwarya Rai) with an exceptional track record who is fine with defending criminals as long as they can afford her. But soon her entire world falls apart when her only daughter gets kidnapped and held to ransom for defending Miyaaz Shaikh (Chandan Roy Sanyal), a felon accused of rape and murder.
Anuradha teams up with her eccentric but dependable friend Yohan (Irrfan Khan) to reinvestigate the crime and connect all the missing links. The crowded plot involves drugs, a high-level cover-up and unexpected twists.
Jazbaa does offer some passing thrills which eventually fizzle out due to the unnecessary melodrama.
Gupta has a knack for putting style over substance, yet again he fiddles with the film's core subject. His stylized depiction of the crime scene takes away all the emotional impact. Moreover, Jazbaa's razzle dazzle camera work further distracts from the storyline.
Sanjay Gupta's obsession with green continues. Like his earlier films, Jazbaa also has enough use of green visual palettes which overshadow the Mumbai skyline. Moreover, the unnecessary melodramatic tone of the film kills the tension and creates more distraction. 
Also, the film's editing progressively works against the human drama rather than supports it.
Besides, the monotonous background score further distracts the audience.
As for the performances, if we spare a few of the overly melodramatic scenes, Aishwarya Rai looks quite sincere in the role of a desperate mother who is willing to go to any length to save her daughter . Irrfan as usual impresses with witty one liners (dialogues by Robin Bhatt and Kamlesh Pandey) but they also take the focus away from the story. The chemistry between the duo was a dud. Even Shabana Azmi's portrayal of an aggrieved mother was not convincing enough.
What could have been a powerful human drama is diluted by over the top performances, incoherent storytelling and an overblown script.
Before the end credit rolls, there is a message on screen informing us about the rape statistics in India. If only the film had been serious about what it tried to portray, it could have been a wonderful watch.