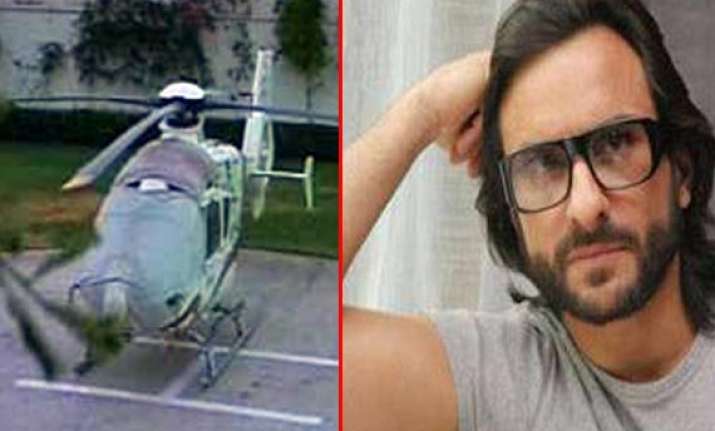 Jaipur, Jun 9: A helicopter meant for use by Bollywood actor Saif Ali Khan for an ad shooting, was confiscated by Jaipur police on Sturday after it landed on the helipad of Shiv Vilas Hotel.
Police said, no permission was taken from the authorities. The company had sought permission a few days ago to land the helicopter at the hotel helipad, but was refused.
"Even though the clearance to land the helicopter was not given, the pilot flew it in here and landed the chopper," additional deputy commissioner of police, Madan Gopal said.
"The helipad inside the hotel had safety risks as experts told us and the permission was, therefore not given", the police official said. 
Interestingly, when the authorities asked the pilot for the clearance, the pilot asked the authorities to get in touch with company officials. The officials informed that they had received an e-mail from the producers claiming they have received the permission.
In its preliminary investigation, the police department has found the e-mail to be fake. 
"We immediately confiscated the helicopter and it now cannot be used till further investigation is not completed," an official said. 
The helicopter belonged to Global Vectra Helicopters, based in Okhla, Delhi.