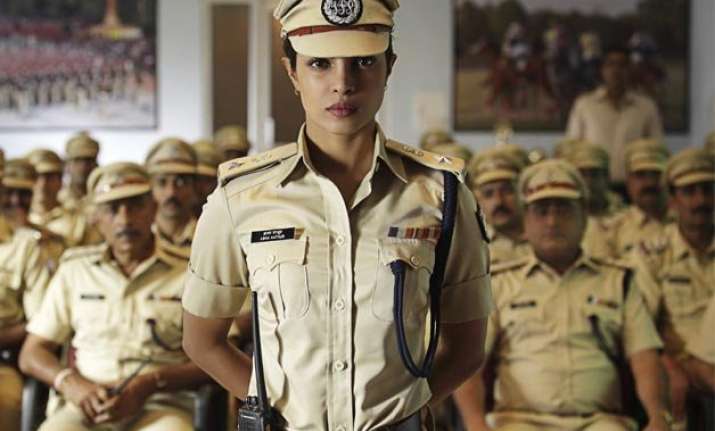 New Delhi: Bollywood actress Priyanka Chopra is grinning ear to ear these days. The diva has successfully created a niche in Bollywood and Hollywood.
Priyanka, who has been renowned actress in B-town, has now made her debut in Hollywood by American series 'Quantico'.
The actress not just got appreciated for 'Quantico', but is garnering a lot of attention from across the world.
So far, Priyanka has done varied roles, from an autistic person in 'Barfi' to an ambitious model in 'Fashion', from girl next door in 'Agneepath' to a devoted sportsperson in 'Mary Kom'  and several others
And now Priyanka is here in the role of a cop in 'Jai Gangaajal'. The movie released today, though, it had already created much of an anticipation level among the movie-goers.
Here we bring you five reasons why you can't afford to miss 'Jai Gangaajal'.
Priyanka Chopra as a cop (Abha Mathur)
As we all know PeeCee is a versatile actress and has already done a variety of roles. From romance to drama to comedy, Priyanka has always left everyone spell-bounded by her performance.  
This time, the actress will once again be seen in an action role. PeeCee is playing the role of IPS officer Abha Mathur and has prepared really hard for all the action sequences in the movie.
Prakash Jha's acting
Prakash Jha is known for his stupendous directorial skills. He has given brilliant movies like Aarakshan, Satyagraha, Rajneeti and many more. But this time, Jha is all set to try his hands on acting with 'Jai Gangaajal'.
Prakash Jha will be seen playing the role of Priyanka's sub-ordinate and will also have some negative shades in his character.
Impressive dialogues
Director Prakash Jha has worked closely on every aspect of the movie, be it direction, production, acting or screenplay writing. 'Jai Gangaajal' is not a combo of a powerful acting and action scenes but it is also backed by some 'dhamakedaar' dialogues and one liners. One of the dialogues from the film is already creating a sensation. It is "Jab khaki ka rang sahi ho toh use chahe mard pehne ya aurat, tum jaise namardon ko chutki mein uski aukaat dikhati hai."
Sequel to Ajay Devgn's 'Gangaajal'  
In 2003, Ajay Devgn bagged a lot of appreciation for his performance in Prakash Jha's 'Gangaajal'. The movie was based on the victory of good over bad – and the fight for justice where a police inspector played by Ajay fights the corrupt politician in Tezpur district.
Now after 13 years, Prakash Jha has made the sequel to the movie in which Priyanka is handed over a district named Bankepur where crime is not new to people. With the local legislator giving tough time to the locals and the policemen in the area, Priyanka is all set to bring him down.
Priyanka Chopra vs Ajay Devgn
With 'Jai Gangaajal' being the sequel to 'Gangaajal' and Priyanka Chopra playing similar roles as Ajay Devgn played in the first instalment, the comparison between the two actors is quite obvious.
While Ajay Devgn did complete justice to his role in 'Gangaajal', PeeCee too has confessed that nobody could be another Ajay Devgn.
Now we wonder if Priyanka Chopra will be able to win over the hearts of the audience as Abha Mathur and will do justice to her role and the movie.