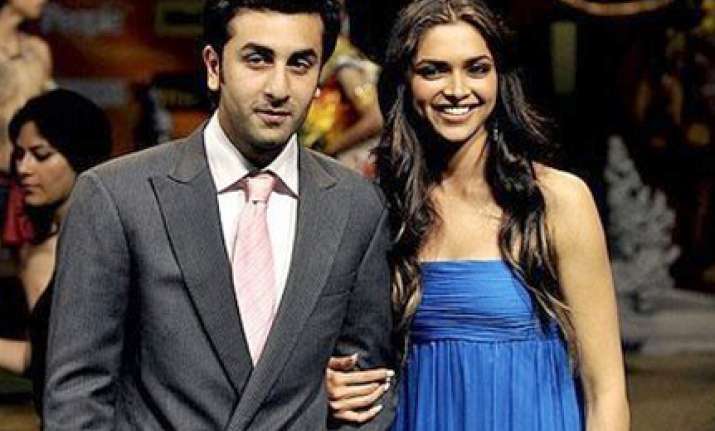 Bollywood actor Ranbir Kapoor has denied it was him that his ex Deepika Padukone accused of cheating, reports HT City. "I read the article (in Verve) too and since Deepika didn't mention any names, how can you say that she's talking about me?", said the Kapoor scion. In an interview with fashion magazine Verve, Deepika had blamed "her man" for straying twice, before she caught him red-handed.
Since they made no efforts to hide their relationship, everyone assumes that the 'betraying lover' is Ranbir."She is a dear friend and I'm fond of her." Ranbir insists that they are still in touch and she even called to wish him on his birthday on Tuesday.They are even open to working in another movie if they like the script.
They were to do Anurag Basu's next, tentatively titled Silence, in which Kapoor plays a deaf-mute. But Padukone has opted out of it."If she's not convinced about the role, she has every right to not take up the film," he reasons.
When questioned about his alleged link-ups with
Katrina Kaif
and
Priyanka Chopra
, Ranbir admits that rumours did bother him: "When I was in a relationship earlier, I was open about it. I'm saying I'm single and I'm not lying." Currently, the actor is making the most of the additional week that the Anjaana Anjaani team got to promote the film. It was to release on September 24 but was pushed ahead to avoid a clash with the Ayodhya verdict, which was subsequently delayed to September 30.
Any apprehensions? "Nope. Whatever the verdict, I hope peace prevails and no one resorts to violence,"he says fervently. "We travelled to more places to spread awareness about the film. Now, we can only wait for the audience's verdict." In a recent interview, mum Neetu Kapoor had said Ranbir makes the best 'jodi' with Priyanka Chopra and Katrina Kaif.
"That's nice but I hope to make a good pairing with other co-actors too. I'd like people to believe that I'm in love with all the heroines on screen," he says.