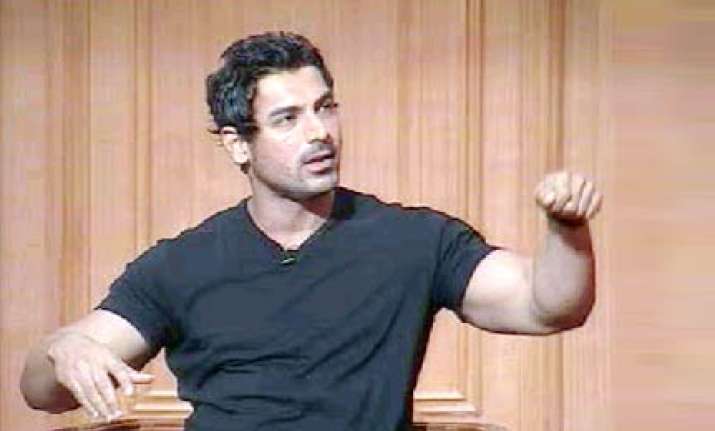 In a no-holds-barred interview on Rajat Sharma's longest-running TV talk show Aap ki Adalat on India TV, Bollywood matinee hero John Abraham says he want to be India's next action hero after Akshay Kumar.
"I want to put this on record here that I want to be the next action hero of this country. After Akshay Kumar, I don't think we have a proper action hero (in Bollywood)", said John.
In this episode, John reveals many things about his relationship with
Bipasha Basu
, his films (particularly New York, Dostana and Jism), his dream of traveling to space, his friendship with Team India captain M S Dhoni, and, of course, the report about his butt being insured for Rs 10 crore.  
John spoke extensively about his relationship with Bipasha and said both of them would surely marry, only when both are ready.
"Bipasha definitely is very special to me. Whether the relationship stays or not in life, it's a fact that Bipasha stood like a solid figure for me and she supported me a lot.  I definitely have love for her, but I respect  her more than I love her.  Bipasha is a woman full of dignity. She has maintained herself with dignity. I really respect her for that. She also has a middle class upbringing like mine. Love is temporary. Love may come and go, but respect for the woman is permanent. I always respect Bipasha Basu, she's superb."
In the same vein, John however clarified that he was presently concentrating more on his career than on his relationship with Bipasha.  
"I'm obsessed with my career, about my future. I sleep at 3 in the night and wake up early. Relationship is a 24 hour job. In the beginning (of our relationship), I used to be her day watchman and night watchman.  
"Over the last eight years our relationship has matured. We don't interfere in each other's work or come into each other's shoes. We don't talk over phone ten times a day. We don't have the excitement of a new relationship.  Bipasha tells me to do commercial film more, rather than experimental films. 'John you are a hard core commercial hero and your career will go from here to there', she says."
On his misunderstanding with
Salman Khan
, John Abraham said, he wanted to clarify that he was not behind removal of
Katrina Kaif
from a film Saaya.
"I was a newcomer then and I didn't have the clout to tell the producer to remove the heroine. That's completely untrue. I respect Katrina or for that matter all other heroines. The way Katrina struggled to reach the top is not an easy thing."
John described how he danced to his heart's content at Team India captain Dhoni's wedding.  "I danced a lot. I had a great time. You see, he is a boy from Ranchi, honest, sincere. He is the best captain India has. He takes care of his entire family. He has 29 motorbikes and I have only four motorbikes. I own a Maruti Gypsy because it was my childhood dream".
"I like both Bipasha and bikes… but I want to advise youngsters not to indulge in  dangerous stunts. I enjoy doing stunts in film, but in the industry you have a lot of safety backup which youngsters do not have outside".
On his sexy body: "What's really sexy about a guy or a gal is his knowledge. Looks are there today, they may not be there tomorrow. It's all transitory. Film is a visual medium. You need to be fit. While 90 per cent kids had Salman as their idol, my idol was Sylvester  Stallone in Rocky. He's got a great body. My advice to all is, have a good  body, but have the right habits. I do not drink or smoke".
On girls: "Girls are strong and brave nowadays unlike boys. When five girls hug me, at least ten hands slither inside my shirt. They caress and feel my body, but I do not move, because they could scratch. It's a good feeling".
On Space Travel : "By 2015 I think space travel will be legalized. I intend to pool my money and travel to space. It may sound crazy, but I want to be the next Indian after Squadron Leader Rakesh Sharma to go to space and say 'Saare Jahaan Se Achha Hindostan Hamara'".
On his action stunts: "While shooting for the film New York, I was to go down on a rope from the 50th floor. At the 40th floor, a window cleaner told me that the strap only worked downwards and not upwards. At the 20th floor, I was held up suspended for three hours as Obama's presidential election procession was  in progress".
On report about his butt being insured for Rs 10 crore: "Definitely I had got a feeler, but in India you cannot get your body parts insured.  Previously in aircrafts, people used to get their pics with me with their hand on my shoulder, nowadays their hand goes towards my butt".
On his kissing Abhishek in Dostana: "It wasn't a real kiss. It was poking because of his stubble. To kill the fun, let me say, it wasn't real. To kiss a man, you need guts.  I know it's a nice thing and not a bad thing to become a gay icon. I respect their feelings."
DO NOT MISS John Abrahm in Rajat Sharma's Aap Ki Adalat on India TV to be telecast on Saturday (Oct 9) at 10 pm and Sunday (Oct 10) at 10 am and 10 pm.