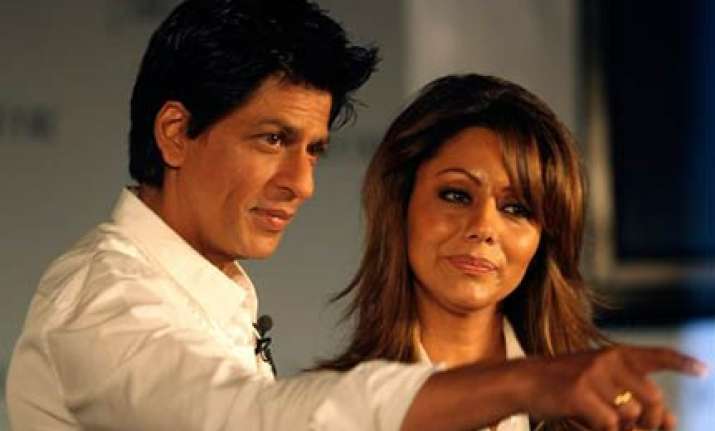 Mumbai:Gauri Khan, wife of superstar Shah Rukh Khan said she is too old to try her luck in Bollywood.  
The star-wife, who features in a TV commercial for the first time, as the brand ambassador of a furnishing brand with Shah Rukh, was speaking to the media here today.  
To a question if she would want to try out acting in a film after working in a television ad, Gauri said, "I am too old to be in films. If I was younger, may be I would have considered."  
Incidentally, she is the producer of SRK's movies like 'Om Shanti Om', 'Main Hoon Na', 'Billu' and the upcoming 'Ra.one'.  
When asked if she would have featured in the ad with any other actor, Gauri said she was in the project because of her husband.  
"It was a home concept and it would be awkward for me to feature in it with any other man," she said.  
Shah Rukh, who was present at the press conference was the doting, protective husband as Gauri faced a barrage of questions.  
On being asked how was the experience of facing the arch lights for the first time, Gauri said she had never worked so much in her life. "I am so tired that I have been sleeping for two days," she said. The television commercial with Shah Rukh was shot on Sunday.
The superstar who has just returned home after a 70 day hectic schedule of 'Ra.one' in London jocularly asked his wife if she wished to act in a movie. "Please tell me, I will produce it myself," he said.  
Later on a serious note, SRK said in their relationship as husband-wife, they have freedom of decision making.  
"The decision was entirely hers. That is what trust and love is all about. Gauri did not feature in this ad for money. She has interest in furnishing and had besides the owners of the brand are family friends so she was comfortable. I am very protective about my family and would not let them work in an uncomfortable environment," he said.  
Speaking about his wife, SRK said Gauri was just like another ordinary housewife.  
"I like that she senses when I am sad and supports me. Similarly, when I am happy, she celebrates secretly."
When Gauri was asked about her husband's traits, she quickly said, "He is the best".  
She said Shah Rukh spoils the children. On being asked if Shah Rukh was a good father or a good husband, Gauri said, "I can't answer this question because I cannot keep praising him all the time."  
Shah Rukh said Gauri makes his home beautiful. "My work is separate from my personal life. I don't carry my image and stardom home. We are a real family and my wife and kids are not overawed by my work. The way we lead our lives is the same how we used to do in Delhi," he added.  
He said the only irregular feature in their normal life was the work he does of being seen on big and small screen, hoardings.  
"But my children understand that this is my job. They are honest with me and discuss with me what is good or bad about my movies," he said fondly.  
Ajay Arora, MD of D'Decor, the furnishing brand said Gauri makes her home beautiful not just in looks but also due to the family which lives in the home..    "Hence, she was the perfect choice," he added. PTI