Follow us on New Delhi: Sushant Singh Rajput's first look in 'Detective Byomkesh Bakshy' has been revealed through its motion poster, released in Kolkata.
Sushant is dressed in a traditional Bengali attire dhoti and shirt topped with sweater and a green jacket in the poster. Sushant is seen sporting a moustache and jumping in the air, with Howrah Bridge in the background.
The motion poster also shows a series of pictures of planes ready to attack Howrah Bridge. Sushant's picture in the motion poster has been given a cartoon like effect.
The teaser for the film was released with Happy New Year in October, which was well received by the audience. The teaser did not reveal Sushant's look in the film.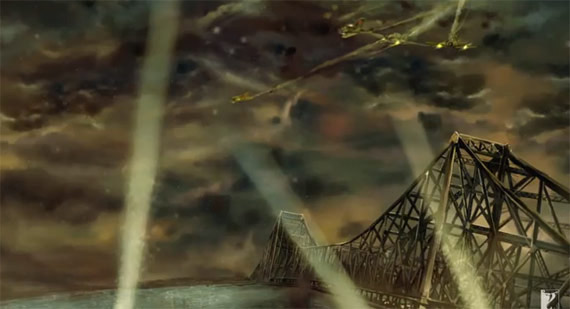 'Byomkesh Bakshy' is a crime thriller set during the time of Japanese attack on the city of Kolkata (then Calcutta). It was on December 20 1942 when Japanese planned to attack Kolkata (then Calcutta) and destroy Howrah Bridge. Calcutta was a major ration supply port to the allied forces at the time.
Byomkesh Bakshy is a fictional detective character created by Bengali writer Sharadindu Bandyopadhyay on the lines of Sherlock Holmes. The young intelligent detective takes on the villains during the attack and saves the city from destruction.
The writer Sharadindu Bandyopadhyay was a big fan of Sherlock and Arthur Conan Doyle and wrote 32 stories in his career.
The film is being produced by Yash Raj Films and it also stars Anand Tiwari and Swastika Mukherjee. Directed by Dibakar Banejee 'Detective Byomkesh Bakshy' will release on April 10, 2015.
Watch the motion poster here: