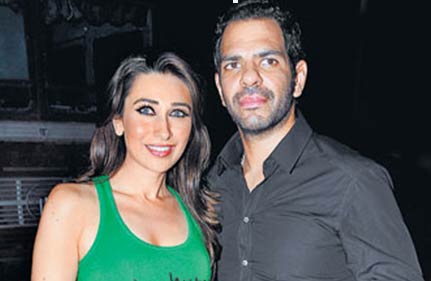 Former Bollywood star Karisma Kapoor's husband Sunjay has been spotted in the company of a divorced Delhi socialite model raising fears about their stormy marrige, says a media report.
After raised eyebrows about Karisma's continuous stay in Mumbai away from her husband, rumours have now surfaced about her husband's close proximity to the ex-wife of a New York-based wealthy hotelier.
Sunjay has been spotted at the capital's high-profile bashes in her company. Any onlooker would realise that they are more than just friends. Says a source, "They seem to have been throwing caution to the wind, of late."
Adds the source, "The two seemed to have found solace in each other as both have had their share of troubled marriages."
The socialite-model who is into luxury fashion retail has a daughter from her marriage to the NRI, who made news after a rehab stint to quit drugs at a Byculla hospital last November.
She had a high-profile wedding that was described as India's most extravagant shaadi and was later made into a TV documentary.
Those in the know state that Karisma Kapoor had married Sunjay Kapur on the rebound immediately after her breakup with Abhishek Bachchan to whom she was engaged.
Sunjay was earlier married to fashion designer Nandita Mahtani whom he divorced just days before his marriage to Karisma.  Nandita is now seeing Dino Morea.
Buzz is that Karisma is keen to return to Bollywood something Sunjay is not too excited about.
Karisma Kapoor and Sunjay Kapur have had a rocky relationship ever since their marriage in 2003. Buzz about strains in the marriage have kept erupting periodically over time.
Even after Samaira was born in March 2005, there was speculation that all was not well on the marital front.
Something went right with the couple because Karisma was pregnant again and delivered a boy Kiaan Raj in March this year.