Follow us on Deepika Padukone, the reigning diva of Bollywood turns 29 today. And as we turn across and witness her overwhelming Bollywood journey, all we can see is her back-to-back brilliant performances with a touch of her own nuances to each character she had played.
Needless to mention how strongly she has proven her mettle in the film industry, one thing that puts her apart from other leading ladies in the race is her magnificent aura.
She gives her own stylish touch to everything she adorns. Be it her messy hairdo or that oh-so-wonderful confidence of pulling almost everything on her tall frame, Deepika just cannot disappoint when it comes to fashion and style.
There occurs no days when she is not happy and confident about the way she has styled herself. However, this radiant beauty often looks more comfortable with herself when she sports 'white.'
Many of her most talked-about appearances are the ones when she has flaunted 'white.' Be it her white saree during 'Ram-Leela' promotions, or that white anarkali during the music launch of 'Chennai Express;' Deepika has stood out whenever she has wore the colour.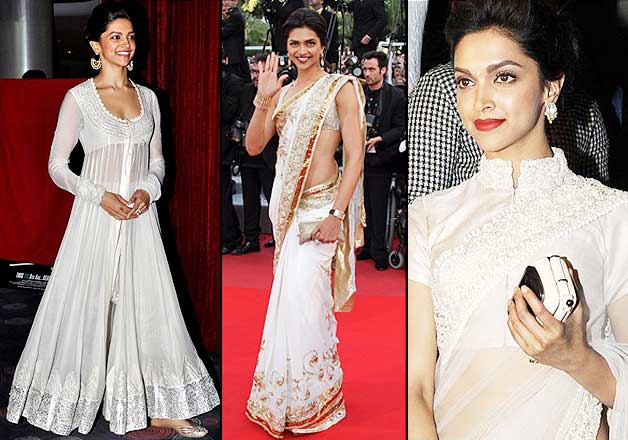 Deepika is so gorgeous a lady that everything she wears and carries becomes a fashion staple and people just can't resist but adore every page of her style diary.
As she steps out, Deepika carves a whole new definition of fashion and comfort with her uber chic persona and undoubtedly an embedded 'diva' image.
Though she sports everything fabulously from casual, funky to classy and traditional; it's her enviable charm and well toned athletic-like frame that makes everything look marvelous on her.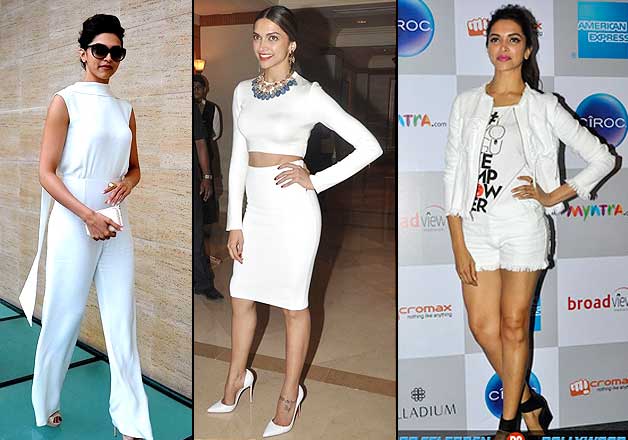 But the actress never escapes a chance when she can carry a white outfit, whether a saree, a suit, a dress or sometimes even those white simple tank tops.
Though she looks ravishing in whatever she sports, her enchanted beauty comes filtered when she wraps herself in a white creation. And why not, as pure as her allure is, that spill of 'white' adds to her glory.
All credits to her splendid height, she carries such maxis very well but with that oomph of 'white,' it adds a dab of an eclectic dazzle to her already charismatic personality.