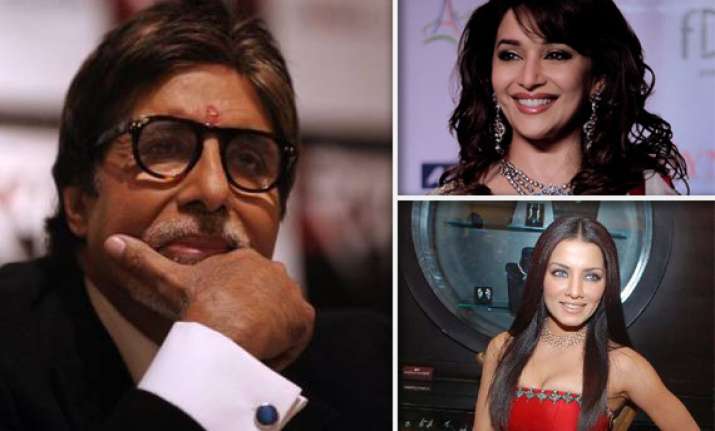 Mumbai, Dec 25: On Christmas eve several Bollywood personalities are off for vacations and others are celebrating it with family and friends.

"Excited! Off to the Maldives for some rest and relaxation...Hope everyone is having a good holiday season," actress Madhuri Dixit wrote on Twitter.

Actress Celina Jaitely, who is expecting twin babies is in Dubai to enjoy the festive season. "Attended a beautiful Xmas mass at the Dubai church …was emotionally very moved. Was wonderful to see people from so many countries come together," Celina tweeted.

"Enjoying the Christmas air! Gonna sign off for the holidays and see you guys back in the new year! Ciao," actor Ajay Devgn said.

Actor Riteish Deshmukh joined his actor friend Arshad Warsi and his wife Maria Goretti for a Christmas brunch.

"Off to Maria Goretti and Arshad Warsi's house for Xmas brunch. She is the worlds best Bawarchi. No wonder Arshad is known as the heavy weight actor," Riteish said.

While other celebrities chose to extend their wishes to fans through twitter.

"A very Happy Christmas to all and a most fruitful New Year 2012...dates and numbers change, time changes, but never the love!!," Amitabh Bachchan tweeted.

Son Abhishek says, "Wish all of you a very merry Christmas. Spread the love, joy and happiness. God bless." "Wish you all a Merry Christmas in advance. Time for some celebration with family and friends.. Chat soon. Peace out," actor-director Farhan Akhtar said.

"Merry Christmas people. May the festival shower you with all the happiness and prosperity in the world. Happy holidays! Full on celebrations at home. Moms very excited, brought home a baby tree with some wonderful goodies," director Punit Malhotra said.