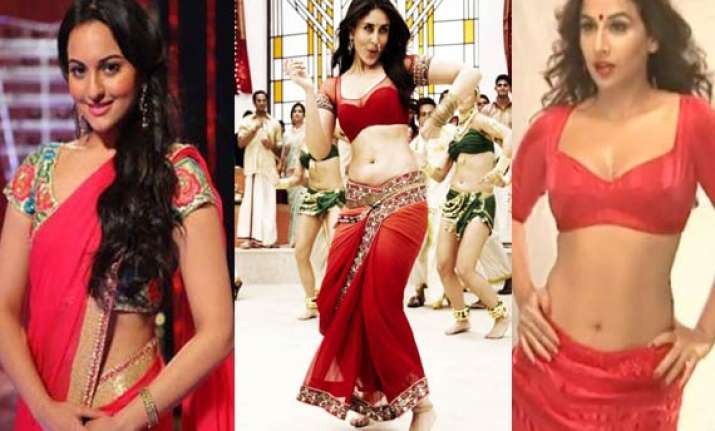 Mumbai, Dec 11 : Skinny is out. Curves are in.  With Bollywood A-listers like Kareena Kapoor, Vidya Balan, Sonakshi Sinha and Chitrangada Singh scorching the silver screen with their sexy and voluptuous bodies, it seems the Hindi film industry is back to embracing curvy women in all their splendour, shunning the new age size-zero trend.

With a combination of curves and talent, these leading ladies have refreshingly stood out with their natural physique and emerged as having the most desirable bodies in B-town, giving ultra-thin actresses a run for their money. 
According to film analysts and fashion designers, Bollywood is shedding its recent obsession with stick-thin actresses and "waking up to curves".

Kapoor, who made the lean-mean look a rage, losing oodles of weight to flaunt a bikini-fit figure in 'Tashan', is back to her previous self. She looked full and plump in her last release 'Ra.One', sizzling on-screen with her item number 'Chammak Challo'.

Bidding farewell to size-zero, the actress is set to continue with her hot and curvy avatar in forthcoming releases like 'Agent Vinod' and 'Heroine'. She reportedly declined to shed kilos for upcoming film 'Ek Main Aur Ekk Tu' with Imran Khan, saying her audience loves to see her in luscious shape.  Balan, who has brought back the curves in fashion this season, is unapologetic and confident of her curvaceous figure.

She delivered an uninhibited performance in 'The Dirty Picture', which saw her bulking up for the character of Silk, said to be based on late South sex siren Vijaylakshmi.  The actress, reveling in her new-found glory, gained a good 10-12 kgs to look the part and is happy about it. 

On whether this would spell a beginning to beat the size-zero trend, she said, "I think it should. It is wonderful to be a woman.
We are women and it is necessary that we look like one. If you look like a chessboard, what's the pleasure? 
Then you should have been a man instead." Agrees the gorgeous and sultry Chitrangada, who steers clear of the thin fad. "I love my curves..thats what makes you a woman," said the 35-year old, who glammed up for her role as the sexy economics professor in 'Desi Boyz'. 

According to film critic Taran Adarsh, Bollywood is finally looking up to the 'bigger' picture.  "Bollywood is shedding its recent obsession with stick -thin actresses.
Size-zero was appreciated but our films and audiences have always been big on curvy stars...just like those in the 70s and 80s. People want to go back to that era ...I think curves are here to stay. It has been always the ultimate Indian male fantasy," he said.

Recent developments in the fashion world also point to the return of curves on the ramp, with designers going in for fuller actresses (as openers and showstoppers on the runway), compared to earlier days, when thin models ruled the domain. 

The New York Fashion Week (NYFW), with its first-ever plus size show in September, received big thumbs up. Back home, at the India Bridal Week (IBW) and Lakme Fashion Week (LFW) this year, not every designer took the skinny route. 

Designer Narendra Kumar got the curvy Sonakshi to walk the ramp for him at LFW, while designer duo Shane and Falguni chose the sexy Sameera Reddy to showcase their creations. 

Designers Sonia Mehra and Neeta Lulla opted for Zarine Khan and the curvaceous Esha Deol along with her mother Hema Malini to sashay down the ramp in the bridal collection of regal sarees, lehenga/sari combos or lehenga /gown duos, which suit the silhouette of Indian women.

But with curves getting hotter, will ramps feature more curvy women?

Says celebrity designer Rina Dhaka, who dazzled the audience with her feminine creations at LFW, "Of course, the 'big' trend has set in..and we are readying...People with slimmer bodies have a comparative edge...but there is a need to relax the size norm and standards set by the fashion and film industry.

In 'real' fashion stores, we cater to the plus size...but on the ramp, still thin is the order of the day...But we are waking up to curves."