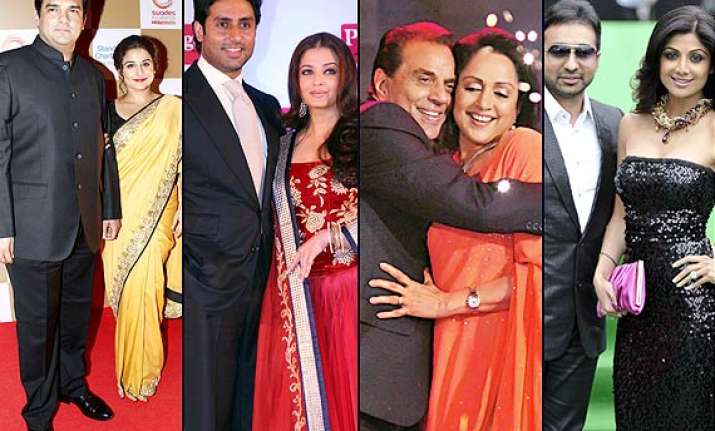 Alia Bhatt and Arjun Kapoor starrer '2 States' has broken all the stereotypes of quintessential love couple portrayed through Bollywood films so far.
And while the intriguing chemistry between the duo has remained the centre of attraction in the film, the plot itself has got tremendous appreciation.
The story comprises hardships that two people in love face because of their cultural differences and how their love emerges finally as they keep on trying hard for their relationship.
Cashing on the lines of love bond between the man who hails from North India and the girl who belongs from South, the film has tried to taken a stance on the ideology of this conservative Indian society.
While the film has surely been successful in its attempt of showing perfect camaraderie of a couple with north-south alliance, we make you familiar with the names of Bollywood couples who share the similar background of both North and South Indian fervour.
Take a look!
Aishwarya Rai and Abhishek Bachchan
Their relation has surpassed seven long years and their bond is still intact. The Bachchans originally hails form Allahabad while Mrs. Abhishek Bachchan was born in Mangalore, Karnataka to a bunt family.
The Bachchan couple still seem to be all over in news whenever it comes to spill the magic of their love and chemistry with those speaking eyes.
They got married on April 20, 2007 and has a daughter named Aaradhya Bachchan.
Dharmendra and Hema Malini

Their love story is still an inspiration for all those out in love!

Dharmendra is needless to mention is a hardcore Punjabi while gorgeous Hema has Tamil Iyengar roots.

They feel in love with each other on the sets of their film and while the actor was married to a Punjabi lady, he made it possible to tie the knot with a south Indian diva after facing many hardships.

They got married on May 2, 1980 and has two daughters, Esha and Ahana Deol.


Aamir Khan and Kiran Rao
Bollywood actor Aamir Khan was married when he fell in love with Kiran Rao. Her simplicity and intelligence intrigued Aamir towards her and soon they got married.
Aamir has been born and brought up in Mumbai but his family has got North-Indian roots and while wife Kiran was raised in Kolkata, she was born in Bangalore to a royal family.
The copuple got hitched in December 2005 and has son named Azad Rao Khan.
Write a comment