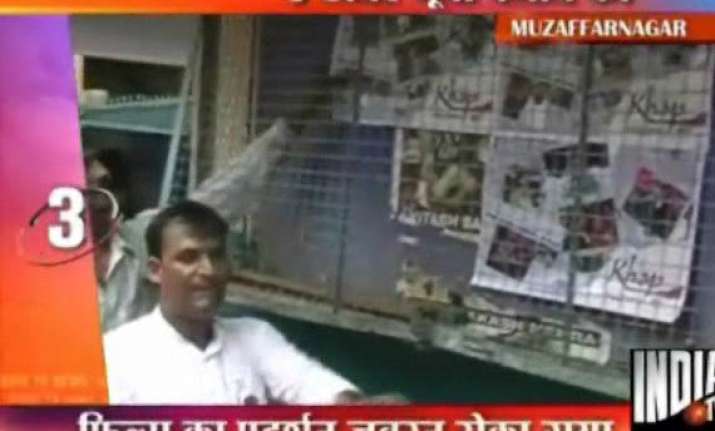 Muzaffarnagar, July 31:  Several hundred activists of Bhartiya Kisan Union workers  on Saturday staged a violent protest at the Braj cinema hall here and disrupted the screening of Om Puri-starrer film Khap.

The activists led by  Chanderpal Fauji, divisional in-charge of BKU, tore up the posters and banners of Khap at the cinema hall, and forced the management to cancel the first show, forcing cinegoers to come out without viewing the film.

Says Chanderpal Fauji: "We protested because the film shows swords and axes being used at Khap panchayat to kill lover couples, which is not a fact." 
Bland-faced Fauji said: "We only discuss social evils at Khap panchayat. Period."

Said Ompal Singh Malik:"We won't allow this film to be screened anywhere. It has wrongly portrayed khap panchayats. Khap panchayats never issue diktats to kill any body."

The cinemahall manager Surendra Prakash said, he called the police from the Kotwali. "The police merely  listened to the BKU activists saying they won't allow this film to be screened".

Bollywood film Khap portrays the evils of Khap panchayats, in which the latter issue diktats  against love marriage and same 'gotra' marriage. The panchayats  go to the extent of forcing the couples to leave their villages or face social boycott.