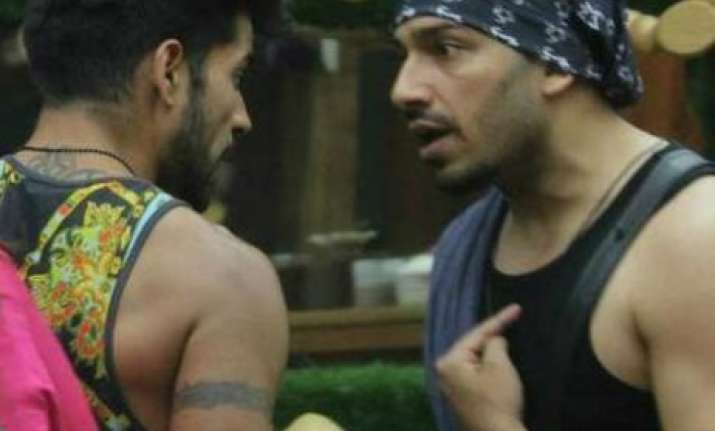 New Delhi: Bigg Boss – the most controversial reality show in India has always been in news for all the wrong reasons. Be it the news of  Diandra Soares becoming pregnant in Bigg Boss season 8, Tanisha-Armaan getting cozy in the smoking zone in season 7, Veena Malik shedding off clothes on a national channel or Dolly Bindra using cuss words and several other tactics; aren't these too much of a TRP gimmick?
Bigg Boss has gone to such a low that one can expect just anything from the show now.
Although, since last few seasons Salman Khan is seen trying to keep the show subtle with decent contestants, but it seems the so-called 'decent' ones are not much liked by the Bigg Boss fans as the latest season of Bigg Boss has not been able to garner much TRPs.
Cuss words, nudity, fights, conspiracies, sex are being served by the show every week. Seems as if this is what the public wants to watch every season. Otherwise why would the makers of the show come up with a new season every year?
As quoted by a leading daily, Sonali's publicist Dale Bhagwagar says that "Ali was stripped off his captaincy for his indecent behavior. But a few days later, in one of the questions asked to Karishma Tanna and Gautam Gulati in the Confession Room, Bigg Boss asked if they think Ali should be made the Captain again. When Bigg Boss had taken such a strong stand for a lady earlier, why was this question posed in the first place? Doesn't it smack of double standards by none other than the Boss himself?"
When one of the leading daily, spoke about this to last year's contestant VJ Andy, he said, "For contestants like Puneet Issar, we have seen him strike out quite a few times and it could be dangerous living with such a person. But if the public has voted him in, I'm wondering if that is what the public wants to see? Is that entertainment for them? If I was in the house I wouldn't have felt safe with Puneet inside. I feel the show needs to set a standard otherwise every year someone will hit another and walk back in. Bigg Boss should actually surprise us by disqualifying such contestants."
Earlier, till season 3, things were different on the show. Amitabh Bachchan was hosting the show at that time; hence the rules were not as they are now. Ex-contestant Kamal R. Khan (KRK) admitted this in one of his interviews to a print daily. Reportedly, he was asked to leave the show for his violent behavior at that time and was not given a chance to return.
Another contestant Sushant Divgikar, who has just left the house, also feels that contestants like Puneet returning, is unacceptable. "It's in our contract that we can't hit people so it's definitely unfair that Puneet is back. Then he says it wasn't intentional, he was using a martial arts move. Next someone will hit a co-contestant on the face, break their teeth and say there was a mosquito on their face and I didn't like its shape so I hit you, it wasn't done intentionally. Will that be acceptable too?"
However, when similar question was asked to other ex-contestants, Gauahar Khan and Puja Bedi; they chose to keep mum saying that they are not the part of the show currently.
It seems that this is what viewers want to watch these days. The channel also continues to serve the same. Now it has to be seen, how long the trend goes on!