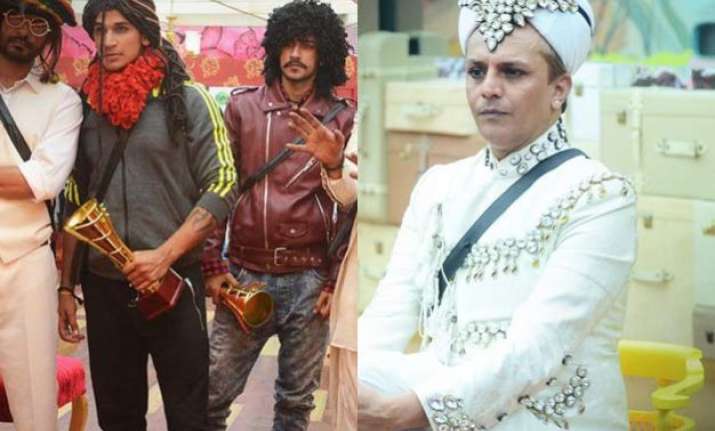 New Delhi: In a desperate step to gain viewers' attention, the makers have brought a new twist in the ninth season of reality TV show Bigg Boss. Probably, the most controversial contestant of Bigg Boss, Imam Siddique has arrived to the house for a week. After his stay in the house, Imam will decide who will join Prince Narula and get the 'ticket to finale'.
As expected, the last episode was all about Imam. His grand entry on the song, Azeem O Shan Shehenshah from Jodha Akbar gave inmates an idea that he is a self proclaimed master.
To add to the kingly aura which already surrounds Imam, Bigg Boss launched a new task, Imam Khush Hua. As the name suggests the contestants had to do things as Imam wanted to please them.
Being the fashion freak he is, Imam asks the inmates to go high on the fashion quotient. It was only a matter of minutes till the house turned into a fashion ramp.
We also told you that Imam is the one who will ask Rochelle Rao to tell beau Keith Sequeria to get engaged to her on national television.
The way Imam tried to spice up things at the Bigg Boss house in the first episode indicates that he has come laden with preparations. Even when he was a contestant, Imam never let a dull day pass in the house. Unfortunately, this season isn't the one of which he was a part. To the disappointment of Bigg Boss' fans, the inmates have failed to keep them glued to the television.
With Imam's entry one can expect to see loads of drama and even louder wars. But, then this brings to the impending question, will the inmates abide to his mannerisms? The lethargic contestants have not taken much interest in nay of the twists and turns of the show. Despite, Bigg Boss asking them to change the way they approach tasks, it hasn't made much of an impact.
We wonder if Imam can get them to pull up their socks when even Bigg Boss couldn't. Certainly, his return will be the best week of this season's Bigg Boss, but will our inmates get any better? Only time will tell.