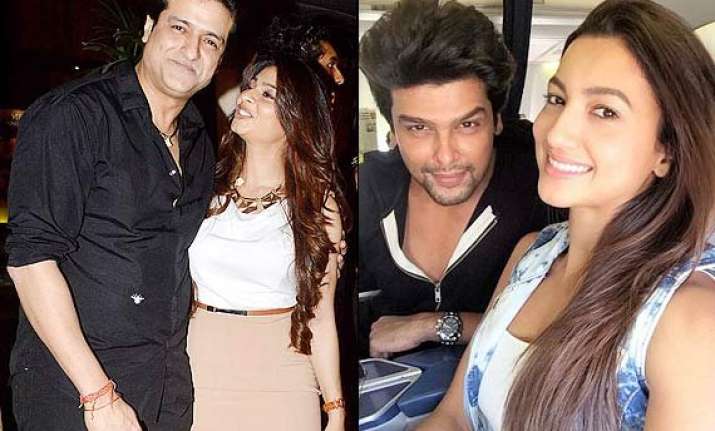 The sheer sad announcement of Gauahar-Kushal splitsvilla has made us brain storm on a few genuine questions regarding Bigg Boss couples and their 'relationship's time slot.'
Though delving in the soul choices of these couples of whether to continue or curtail their relationship is not our intention; our focus here is to raise a few facts associated with why these couples eventually choose to end their relationships soon after the show.
We have had a few beautiful couples like Armaan-Tanishaa, Gauahar-Kushal, Anupama-Aryan; Sara-Ali emerged out of Bigg Boss series. Just when we start thinking that fine, couples made in Bigg Boss do not necessarily mean to raise the TRP only but there are genuine feelings attached too, we have been proven wrong!
So, why is it that most of the Bigg Boss couples we have encountered in the recent past have not been able to survive their relationship for long despite the click of genuine emotions for each other? Well, the answers could be many!
When a bunch of a few people from various backgrounds are living together without any connect from the outside world, they tend to form a world of their own inside the Bigg Boss house. And while there are scuffles and friendships (scripted or unscripted), everyone pick his/her own connection - someone with whom he/she feels more connected than the rest of the inmates.
Now, when a person who is living away from his/her beloved ones in a sacred structure with so many unknown faces, he/she is sure to built a proximity with someone from whom he/she feels attracted to, whether physically or psychologically or both.
Isn't that obvious for you to like a person whom you have observed as someone supporting your ideology and liking your way of living? Of course it is, yeah!
Thus, when Gauahar-Kushal met or Armaan-Tanishaa met inside the Bigg Boss house, they must have felt connected - through their common interests and sometimes just because they didn't want to lose someone who is their support inside the house.
Apart from the 'connection' that keeps binding people inside the house, the fact that only these two are for each other in the house hits them back in the outside world.
 In other words, when the couple is inside the house, whatever happens and whatever issues are created, they both handle them together but when such couples face the world outside those four walls, they tend to face the harsh realities of life with so many other people around them. A lot of influence or pressure created from beyond the territory of their 'love matrix' sometimes forces such couples to give up.
Battling down the ill circumstances paving hindrance in their love lives or simply realising that he/she not the one enough compatible for me, is something that these people stand to while making decisions of their separation.
Thus, we urge those who feel they are in 'love' to look beyond their capabilities and observe a few realities before declaring or announcing that it's not anything but only 'love!'
We are glad that even Bigg Boss has taught us something (wink)!