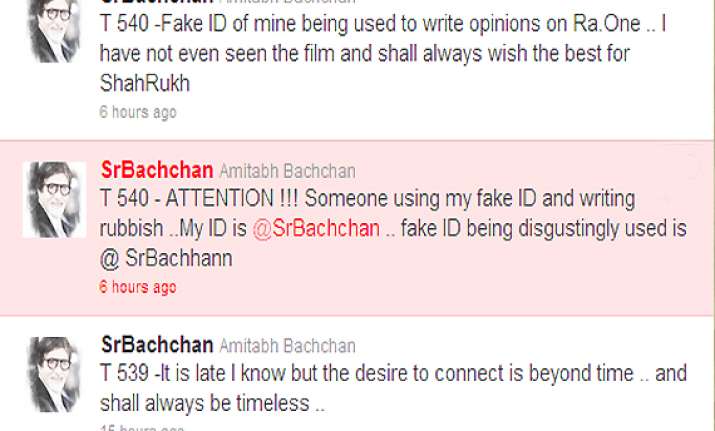 New Delhi, Oct 27: Bollywood megastar Amitabh Bachchan is left fuming after an imposter used his identity on Twitter to criticise Shahrukh Khan's latest release 'Ra.One'.  The 69-year-old actor has come out strongly against this attempt to malign his relationship with the King Khan. 

"Attention !!! Someone using my fake ID and writing rubbish... My ID is @SrBachchan... fake ID being disgustingly used is @SrBachhann (sic)," he wrote on Twitter. 

"Fake ID of mine being used to write opinions on 'Ra.One'... I have not even seen the film and shall always wish the best for ShahRukh (sic)," he added. 

The imposter bashed Shahrukh's superhero film, which released yesterday, saying, "Saw #RA1. What a WASTE. Even the worst of Abhishek's like Drona were much better. May be SRK's mid age crises (sic)."

Bachchan also warned the miscreant saying he would not tolerate such negativity and malice.

"Of late a great amount of negative, malicious, completely untrue remarks being written against me... I shall bear with silence... but beware the fury of a silent man .." Bachchan said.

"There's a limit to what can be said, a limit to what I can tolerate... much is in my control... think well before you malign me .... Completely false accusations are being directed to me... I will not tolerate," he added.