Follow us on Finally it has arrived! Bang Bang hits bang-on target with Hrithik Roshan as the super action hero.
First of all, I would like to mention that I saw its original version 'Knight and Day', & post that I was ripping my hair for its irrational sequences.
Ratings- **1/2
Stars- Hrithik Roshan, Katrina Kaif, Danny Denzongpa
Director Siddharth Anand
Music- Vishal-Shekhar
Then on day I heard Bollywood is daring to renovate that damaged drama, a fear ran into my conscience that another disaster is on its way. But surprisingly I was wrong.
Heard the cast and finally saw the teaser promo of Hrithik-Katrina starrer 'Bang Bang' and like all I was blown away by it. Still, I waited for the end product and now when the game is on in theatres, it's not that I was wholly convinced with it but I liked it.
Siddharth Anand has done a decent comeback with Bang Bang and Hrithik Roshan makes it work. No one can match his aura when it comes to action. All in all, the flick belongs to him as he promises the 2 hrs 30 minutes of death-defying combative entertainment.
He plays Rajveer, a charming yet mysterious man and the world is hunting him down since he has stolen India's 'Kohinoor' from London. However, the movie opens with the assassination of an Indian military Intelligence Officer (Jimmy Shergill) by an underworld Don (Danny Denzongpa). The flick shifts focus to Rajveer since he is portrayed as an international criminal. It doesn't matter India opines that he needs to be honoured with Bharat Ratna Award for stealing country's belonging from the English capital.
He incidentally meets Harleen Sahni (Katrina Kaif) an innocent bank receptionist, and thereafter there is no question of the two going separate ways. Rajveer takes her along to leave no clue for the government agents and mafia's men.  However, she is unaware about the causes of such mayhem. Is Rajveer trustworthy or is he just using Harleen for his own purpose? Watch out to find it, amidst massive car chases, open shoot-outs, and other breath-taking stunts.
Siddharth Anand may not have had a good past in his direction prowess but he has shown some improvement however, his Bang Bang is far from a perfect flick since, logics here is mostly dumped into dustbin. We expected the story writer trio of Sujoy Ghosh, Suresh Nair, Abbas Tyrewala to have learnt from the mistakes committed in the original version and evade them bringing in here. Adding an emotional plot in the name of diversification is the only para they chalk down in the storyline.
Bang Bang badly suffers from its weak screenplay. It's sometimes hard to believe Harleen's closeness towards Rajveer who drugs her, shoots her boss and is on a slaughter spree of innumerable people, which also includes government agents.
Then again he drugs her, strips her and takes her off to Similan Island in Thailand (though the place's name not mentioned in the flick). And yes, the picturesque and glossy locations namely Shimla, Manali, Abu Dhabi and Prague and others change like a slide show and we tickle our heads questioning our conscious that how did they arrive there. Were there magic doors, each of them when pulled will take them to different locations?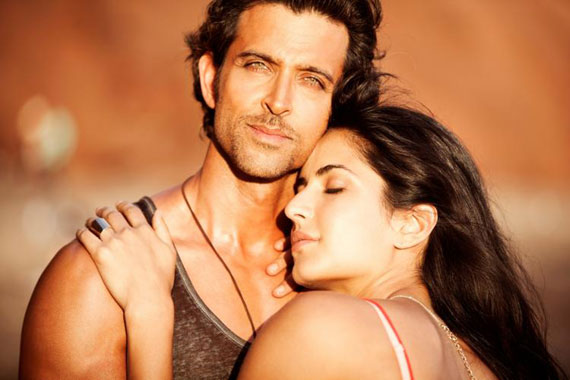 We too aren't spared from Bollywood cliché emotional linking in the movie. The 'Maa' angle is hit in our 'desi' movie and so the director can't resist employing it. Talking of more illogical things we have two adverse groups- government agents and underworld goons but they are insanely together to trail down their common foe Rajveer.
But these and many other blemishes are tried to get hidden with its action feats, which were anticipated and expected to be raw. Yes, we couldn't compromise on that. Action choreographer Andy Armstrong of 'The Amazing Spiderman 2' fame makes sure that you get what you paid for.
Hrithik's Jetski stunt on big screen is brilliant.  The F1 car sequences on the roads of Abu Dhabhi drives you crazy in an abrupt climax and gives you goosebumps. All of these and many others come over as a clip of exciting resumption of stunts. But warning! Don't look after the reason behind why and how they occurred.
With all this, what we came across is that Hrithik and Katrina are the most effective things in this movie with their roles. Knowingly they are overwhelmed by the entire disorder surrounding them. The movie works mostly because they gladly project that they are aware of its absolute nonsense and throw themselves in to enjoy the cynical events.
They are scripted throughout with hysterical flirting, romancing with one-liners, never discuss their situations seriously and spend most of the time in dire danger. Bullets miss them every time and they survive by motorcycle, car, train, and airplane or any anything which comes in their way but all that work in bits and pieces. Siddharth Anand mostly depends upon the two and their absence makes you loose your patience however, not every time they could help the weak screenplay.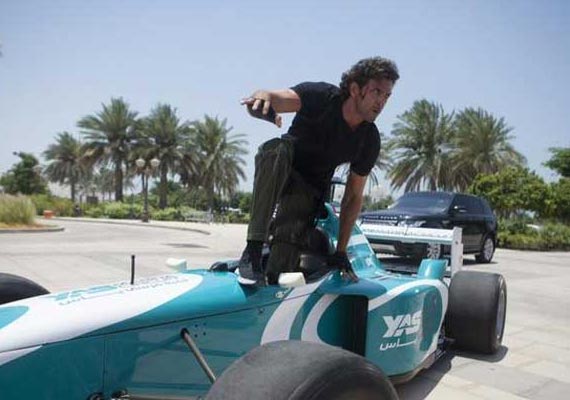 Hrithik takes the entire mayhem on his shoulders. He makes every possible attempt for the struggling flick to run. He dances, battles, flies, cook and what not to make you fall in love with him. It could be termed his Dhoom 2's con character's reincarnation but I am afraid that lazy characterization could make Bang Bang his easily forgettable movie after Kites.
So is for Katrina. As an innocent and troubled lady she is great. Her fear and hesitation is amusingly wonderful.
Danny Denzongpa as a bad man has a cameo appearance and he couldn't do much with that. Jaaved Jaffrey's attempt to be an onscreen baddie is unintentionally amusing.
Pawan Malhotra as a government agent is good. Music by Vishal and Shekhar is already a chartbuster. However, couple of songs is forcibly used but watching songs like Tu Meri and Mehrbaan on big screen is like a treat.
Two and a half stars for Bang Bang. What it just for Hrithik Roshan for he is the only saving grace.