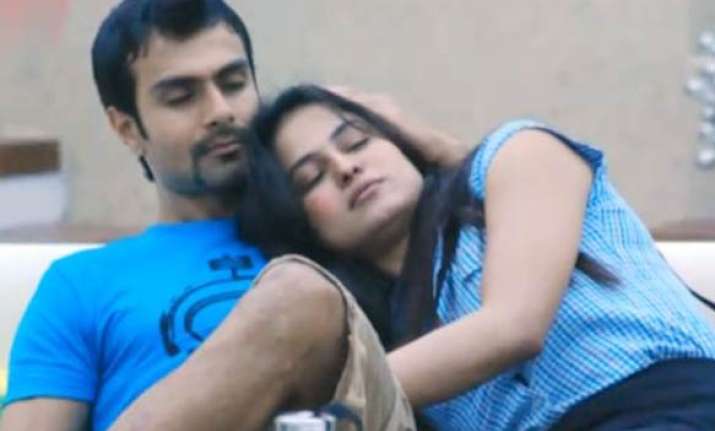 New Delhi, Feb 22 : Sparks are expected to fly as Bollywood actor Ashmit Patel will be joining India TV World Cup reality show Bigg Toss from Feb 26, says Vinod Kapri, the news channel's managing editor.
Ashmit Patel had been in the news recently for his onscreen romance with Pakistani actress Veena Malik in
Salman Khan
-hosted Bigg Boss-4. The two were supposed to meet on Valentine's Day this year, but did not. 
Ashmit's entry into Bigg Toss will bring in a new factor in the  reality show  which already features Veena Malik, Rakhi Sawant, cricketer Yuvraj Singh's father Yograj Singh  and other celebrity participants.  
Presently, Veena Malik has been quite friendly with Bigg Toss participant wrestler Sangram Singh, and with Ashmit's entry, a love triangle may, or may not emerge.  
The reality show Bigg Toss involves  a Pre Match Episode, in which around 14 to 15 celebrities stay in a villa and are divided in to two groups - Googly  headed by Veena Malik and Hattrick headed by Rakhi Sawant. In turn they have choosing their favorite player out of the Indian squad.
The participants are given various "Bigg Toss Tasks" which one of the groups needs to win to get the first chance for choosing the favourite player.
Towards the end of the episode, both the teams chose their favourite players and  wait for the next day to see their performance in the match involving Team India.
In the Post Match Episode,  all individual house mates and their teams are awarded points on the basis of performance of players chosen by them. Whosoever gets the highest points  is adjudged the winner.
But, there lies a catch: There is a "Master Stroke" which may overturn the whole process and whosoever gets higher points through master stroke may become the ultimate winner of the Bigg Toss contest.
In the reality show, there  are several tasks for participants  titled Bigg Toss Tasks. These are  tasks, or  in other words, small games given to inmates to make the entire programme interesting. These include, throwing balls at stumps, or tug-of-war.
Master Stroke  is introduced in the post match episodes to give twists and turns to the proceedings in the house.
Bigg Toss is telecast daily at 8 pm on India TV.
Apart from the reality show Bigg Toss, India TV is telecasting Power Play Live, Khel Abhi Baaki Hai  and Final Report relating to pre-match, break time and post match, anchored by none other than Veena Malik with the help of commentators Anshuman Gaekwad and Chetan Sharma.