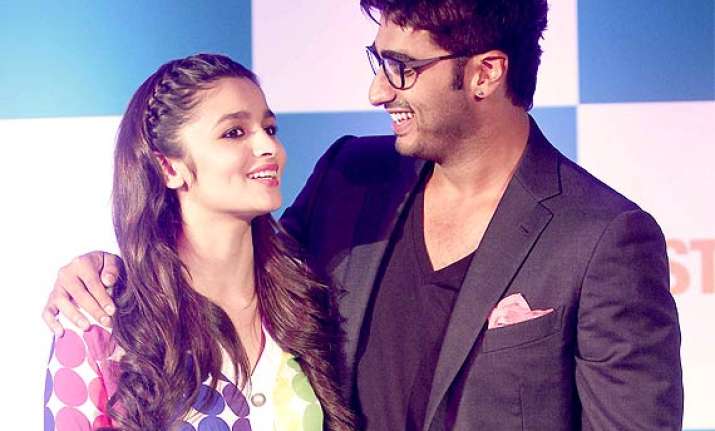 Arjun Kapoor and Alia Bhatt's blooming love affair is there for all to see, and the recent stint shown by this rustic man would add more masala to the already generated rumours.
The news has it that Arjun threw a very candid but arrogant reaction over  a journalist showing how much annoyed is he on his relationship questions with Alia.
The duo who is garnering all limelight due to their steamy chemistry in the upcoming '2 States' seem enjoying their bond at various award ceremonies, public functions and during the promotions of the film held in the recent past.
While Arjun's stark and sarcastic reply generates a lot of hoopla around his relationship with Alia, his rustic words are surely portraying him a bit more rude.
When asked that does the couple bonds well, Arjun sarcastically replied, "Yes you are right. We get along well. And when we work on a horror film, we will hate each other during the promotion! What do you expect?"
Not only this, Arjun showed so much of agitation with the media's questions that he even remarked, though in anger,  that his friendship with Alia and Ranveer is just for the show and is completely fake.
Well, we think that Arjun seems to forgot he is a star now and therefore bound to have been the part of romours! We request him not to show arrogance of this height and understand that there is no smoke without fire!