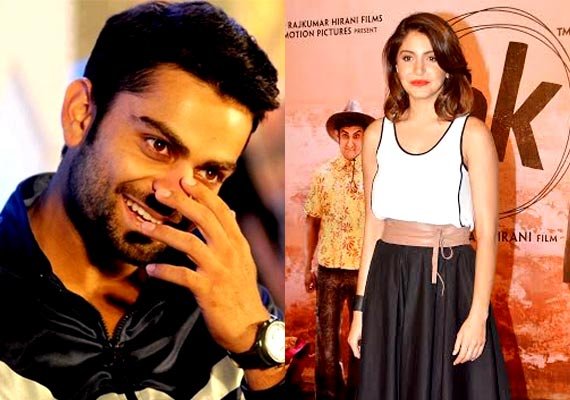 New Delhi: Adding flames to engagement rumours Anushka Sharma and Virat Kohli were spotted at Kokilaben Dhirubhai Ambani hospital.
The rumoured couple has often been spotted together many times and even leaving each other's houses late at night. However, it is unclear what they were doing at the hospital.
The hospital is quite close to the hot actress' residence. While Anushka was dressed in white trousers and a light blue top, Virat was seen sporting an orange shirt and beige trousers.
Fans who were at the hospital began to notice the rumoured love birds and some even took snapshots of the couple at the scene.
The reason of their visit is still not known but it is reported that the couple's parents recently met to discuss engagement and marriage. So much is being written and said about them but in spite of all these the duo remains to keep a dignified silence.
At the launch of 'PK' trailer, journalist got a good chance to ask Anushka about Virat.
Anushka blushed when asked about Virat and she with a smile avoided engagement question.
When reporter asked about her engagement, Anushka blushed. Aamir joked, "I also want to ask this question." Anushka smiled and then said, "Yes, I mean... what do I say? This platform is not these kind of questions."
Aamir further fueled the discussion by saying, "Let's go on a different platform then, but they need an answer to this."
The journalist twisted the question by saying that there is a link between his question and the film as Virat could fall in love with her more once he watches this film.
Anushka laughed and said, "I am hoping that the whole world starts loving me more after watching the film."
Anushka and Virat do make a lovely couple together and despite hiding their relationship from media, the couple has been making headlines very often.