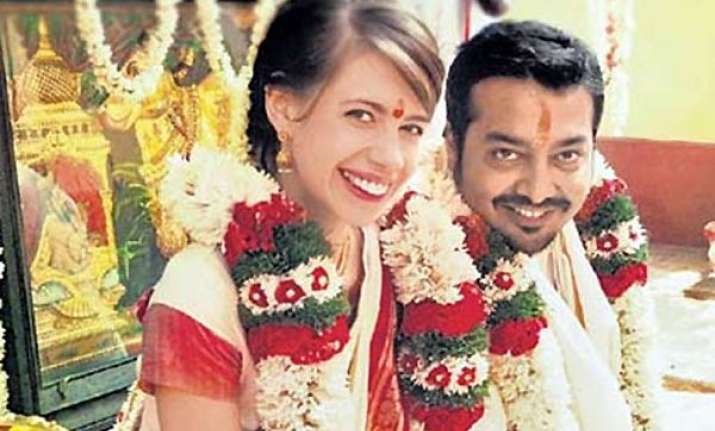 Bollywood film maker Anurag Kashyap and long time girlfriend Kalki Koelchin tied the knot in traditional Southie fashion under a mango tree, says a media report.

Kashyap, a Hindi film director fell in love with his Dev D actress while shooting for the film three years ago.

Koelchin will next be seen in Shaitan, a film that Kashyap is producing.

This is Koelchin's first, and Kashyap's second marriage. His was earlier married to Aarti Bajaj and has a ten-year-old daughter named Aaliya with her.

The wedding took place in true South Indian style in the small town Kalhatty on the outskirts of Ooty.

"It was a traditional South Indian wedding that started at 10.30 am. the ceremony winded up by 12.30 pm, and it was held under a century-old mango tree, which is considered auspicious according to customs," says a guest.

The setting was natural, with strings of flowers hanging from the tree.

Koelchin was dressed in a white and red saree embellished with zari work, while the groom wore a white lungi.

The couple is believed to have followed the rituals religiously and recited shlokas according to the pundit's instructions. "Anurag tied a mangalsutra around Kalki's neck while the two of them sat on chatais."

The wedding that unfolded on Saturday was a private affair with just about 40 guests in attendance including families and friends of the bride and groom.

Kashyap's daughter and director brother Abhinav (Dabanng) was there too as were the bride's brother and sister-in-law .

Among the groom's close friends, Vikramdtiya Motvane and wife Ishita, Rahul Bhat, Piyush Mishra and Shahnaab Alam were present," says a close friend.

The food, say the guests, was the highlight of the wedding.

"It was a typical South Indian spread. The traditional vegetarian meal was prepared by Kalki's mother at home. She had a huge retinue helping her with the feast. They served the meals on banana leaves."

The couple who are currently busy with promotions for their upcoming film haven't made any honeymoon plans yet.