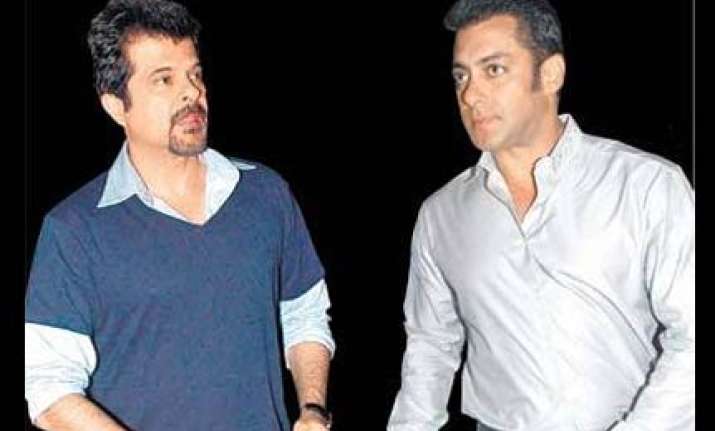 Bollywood star Anil Kapoor will not charge a fee for acting in the remake of a Marathi film produced by Salman Khan's Being Human Foundation.Mahesh Manjrekar plays the title role in the Hindi remake of Mee Shivajiraje Bhosle Boltoy.
Says a source, "Anil and Mahesh met at Khan's house a few days ago to finalise the details. An announcement will be made shortly, Anil is expected to play the role Sachin Khedekar played in the original."
Manjrekar prefers to be guarded. He says, "We are in talks with stars but at this stage, I do not want to name anyone. There is many a slip between the cup and the lip. Once everything is on paper, we will make a formal announcement."
Mee Shivajiraje..., which released in April 2009, was penned by Manjrekar. The movie is about an ordinary middle-class Maharashtrian (played by Khedekar) who finds nothing going right for him.
Enter Chhatrapati Shivaji Maharaj, who transforms his life and tells him to take responsibility for what he does. The film is akin to Lage Raho Munnabhai, which had Mahatma Gandhi guiding Munnabhai. Like Munnabhai, who alone could see the Father of the Nation, in MSBB, only the simple Maharashtrian guy can see the Chhatrapati.
Apart from MSBB, Manjrekar's other Marathi film Shikshanacha Aaicha Gho (SAG), which takes on the educational system, is also being produced under the Being Human banner. Adds Manjrekar, "I will be remaking both films. SAG will go on the floors first."
Salman Khan and Kangna Ranaut are slated to feature in the SAG remake and Sallu will play dad to two kids. Buzz is that the proceeds of the movies will entirely go towards the Being Human Foundation charities.