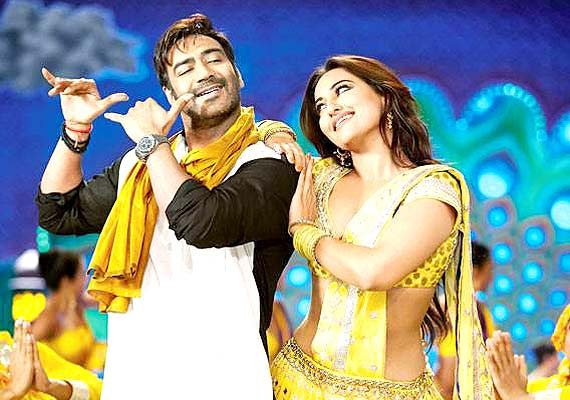 New Delhi: Ajay Devgn's upcoming 'Action Jackson' is out with its trailer.
And what all it caters to are a few funny dialogues, a little above-than-average action and just a more-than-mere presence of Sonakshi Sinha. The other two actresses Yami Gautam and Manasvi Mamgai are there for tits and bits of glimpses.
Ajay Devgn's latest offering is a masala entertainer and hold a special foray of action as the man can be seen breaking bones relentlessly and showing tiny funny jigs too.
Directed by Prabhu Deva, the film doesn't look like a deal breaker but surely matches the on screen persona of Ajay Devgn. The actor can be once again cherished in his ultra rusty avatar baring his body and flaunting all his perfect cuts and that tattoo on heart.
While Sonakshi seems pale and luster less, her chemistry with Ajay definitely appears intriguing. The other two ladies viz. Yami and Manasvi come and go in the trailer and are unable to register their presence.
The dialogues sound funny and not interesting as Ajay says, 'It's my way ya sky way' or 'main ek hi baar bolta hun, kyuki dusri baar sunne ke liye tu nahi hoga.' For that rare advice to the makers, we would like to add that the over-the-op action scenes that actually look unattainable can be digested but such dialogues hold a strict zero tolerance!
Moreover, Action Jackson portrays Ajay Devgn in a small time crook character, and therefore a touch of wittiness in the persona is a must. And what appears from the trailer is the fact that Ajay is trying too hard to push humour in his character but just can't help it.
Watch the Ajay Devgn starrer 'Action Jackson' here…
Action Jackson is about a fun, small time crook who gets entangled with a relentless girl who is convinced that he will bring her good luck. The consequences that result in are expected to be hilarious, masala-filled and thoroughly entertaining.
The film is slated for release on December 5 and has started building anticipation.