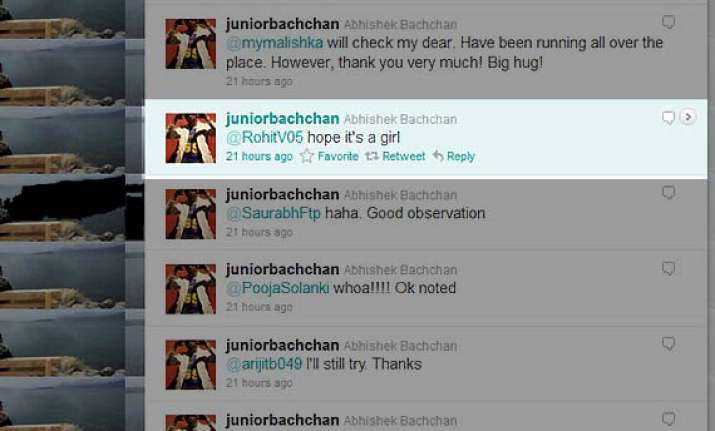 Mumbai, June 24: A Mumbai newspaper on Friday reported that Abhishek Bachchan has expressed his "wish" for a baby girl from wife Aishwarya.

The couple are yet to know the gender of their unborn child yet, says the report.

Ever since the news of Aishwarya Rai's pregnancy hit the headlines, people have been speculating what the gender of the child might be.

Going by the buzz on chat forums, it seems majority of people are hoping for a girl because Amitabh and Jaya too had a girl (Shweta) first and then a boy (Abhishek).

While that is a far-fetched guess, Abhishek himself has made explicit that he hopes for a girl child.

A fan asked Abhishek on his Twitter page: "Do you know the gender or want to keep it a surprise?"

Abhishek responded: "hope it's a girl"

Meanwhile, there has also been a rumour that Aishwarya Rai might be expecting twins.

On the other hand, the expecting 'Nana' Amitabh Bachchan is busy giving interviews about the impending guest.

Says Big B: "We are delighted with the news and as parents of Abhishek and Aishwarya we are thrilled at the coming addition to the family. It's the beginning of another generation of the Bachchans. Nothing could be more fulfilling and joyful."

Asked what prompted him to announce this personal matter on Twitter and later  in his blog,  Big B replied: "I have always treated my blog members and my Twitter followers as my extended family. Informing the about the news was my first priority."

On being told that a father grows even wiser when he becomes a grandfather, Big B quipped; "Wiser and child-like. I welcome that and do look forward to it."

Asked what he would tell Abhishek about fatherhood, Big B replied: "May your son or daughter be the ideal son and daughter that you and Shweta have been for me."