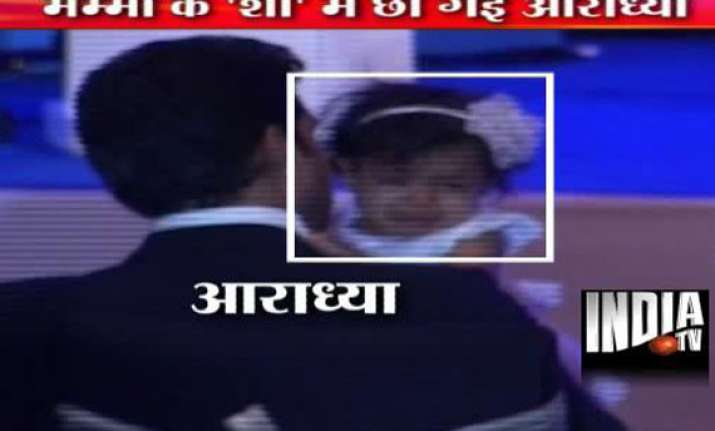 Mumbai,Nov 2: Aishwarya's entire family including husband Abhishek, father-in-law Amitabh and her parents were all present as she was conferred with the honour of 'Knight of the Order of Arts and Letters' (Chevalier dans l'Ordre des Arts et des Lettres), the second highest civilian French honour.
The event took place at Sofitel hotel in Bandra Kurla Complex. It was supposed to start at 7.30 pm but began at 9 pm instead.
Doting mother Aishwarya held Aaradhya in her arms when she entered the hall where the event was scheduled to happen.
As she went on stage to receive the award, Aaradhya kept crying constantly and it was father Abhishek who carried her outside.
"It gets overwhelming for babies. That is why we get protective (about children). We would love to share our personal moments with all of you but we tend to take care of our babies," Aishwarya said.
The actress got a little emotional and said, "I am realising what it takes to be a mother. Thank you for giving me such an undefinable experience of being a mother. It surpasses everything."
Baby Aaradhya bawled in her father's arms, as mommy Aishwarya went up the stage to receive the French government's prestigious Kinght of the Order of Arts and Letters from the French ambassador Francois Richier here on Thursday.  
Abhishek Bachchan tried, and tried, to console his baby, but Aaradhya, with a beautiful flower tied on her head, bawled on and on. 
Even Aishwarya tried to calm her baby by gesturing from the stage, but the baby was unrelenting.  
Finally, as it usually happens in Indian cinema theatres, the father, smiling sheepishly,  quietly slipped out of the hall carrying the baby.  
When Abhishek returned with Aaradhya, the baby was playing with a piece of paper, but soon as she saw her mother on stage, she began bawling again.  
By that time, Aishwarya was telling the audience: "Last time, when this honour was announced, I was conceiving my baby. Now it's a double honour for me. Thank you, Aaradhya, for making it so great." 
Now, enough was enough, Abhishek carried the bawling baby up the stage and handed her to his wife, and Aaradhya suddenly became calm. All this was being watched by grandpa Amitabh Bachchan with a twinkle in his eye.  
 Amitabh Bachchan had said, he was proud that his daughter-in-law, actress Aishwarya Rai Bachchan, has been chosen to receive the civilian award by the French government for her contribution to the arts on her 39th birthday. 
In the past, celebrities like Shah Rukh Khan and Nandita Das have received the honour.