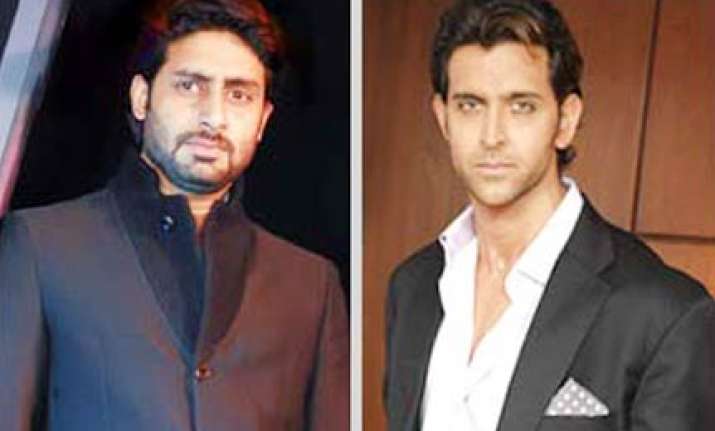 The mantle of remaking Agneepath has rightfully gone from Yash Johar to his son, Karan Johar. However, protagonist Vijay Deenanath Chauhan's coveted role will not go to Amitabh Bachchan's son, Abhishek; instead, Hrithik Roshan will play it, reports Mumbai Mirror.
The Amitabh-Mithun-Danny starrer was a superhit in 1990 and it went on to be a cult film for generations to come. Amitabh Bachchan also won a national award for the film.
But considering the protagonist's role has now gone to Hrithik, you wonder if Abhishek is upset.
Our source said, "Agneepath is Abhishek's favourite film and he has watched it many times. So, when it was announced that Hrithik would play Amitabh Bachchan's role, everyone thought Abhishek would not take it well."
Apparently, during the shooting of Koffee with Karan, where Abhishek had come with his wife Aishwarya Rai Bachchan, Karan asked a question during the rapid fire round about how Abhishek would dress if he had to go for a masquerade party. Incidentally, the same night Hrithik had thrown a party.
So, Abhishek said that he would go as Vijay Deenanath Chauhan and give tips to Hrithik about how he should play the role." 
Karan Johar remained unavailable for comments. Fazila Allana, head honcho of Sol Production Pvt. Ltd, which produces the show, did not deny the news and said, "You will have to watch the episode. I do not want to say anything."  In the episode, Abhishek did seem delighted about Hrithik stepping into his father's shoes, despite the quip. While Big B's role remains the bone of contention, let's wait and watch who steps into Madhavi's shoes.