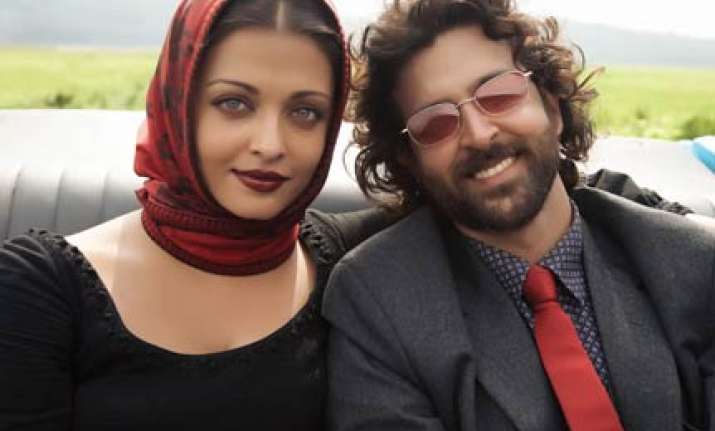 Mumbai, Oct 13 : Bollywood heartthrob Hrithik Roshan, who earned the superhero tag with his dare devil stunts in 'Krissh', says that playing a paraplegic in his upcoming movie 'Guzaarish' is not an image change for him.  
"I am a super character in the film. I have interacted with about 20 such patients who suffer from complete paralysis of the lower half of the body, including both legs which is mostly caused by damage of the spinal cord.
They are real life superheroes and I am representing their emotions on screen," Hrithik told PTI.  'Guzaarish', directed by Sanjay Leela Bhansali, releases on November 19. Aishwarya plays the romantic lead opposite Hrithik in this period film.  
"The patients with whom I interacted during the making of the film have become my friends for life. They taught me that you are more than just your body. There is a reason to all your problems and in solving them...Instead of crying over problems, focus on how to face them," he says. Hrithik, whose last film 'Kites' sank at the box office despite huge hype, says he never felt so responsible towards a character he has essayed on movies.  
"I am representing the lives of these superheroes on screen. Apart from the fact that Bhansali's script moved me, I felt the responsibility of telling the world the story of such incredible people...my character portrays how to live life despite struggles and problems after meeting with a near-fatal accident during a performance as magician," he said.
 The actor says he spent several hours with the patients to understand what they go through, what they think and what are their needs.   
Recalling his state of mind when he was going through the 'Guzaarish' script, Hrithik says he was nursing a knee problem and doctors told him that the knee will never be okay. "My state of mind helped me to identify with the story. The script energised me so much that I was not depressed about my knee problem anymore," he adds.  
About his experience of working with Bhansali, Hrithik admits that people had warned him about the maverick filmmaker that he is mad and shouts at people.  
"However, even the crew was surprised that there was calm and peace on the sets and we bonded so well. I feel our equation worked because of the kind of actor I am and the kind of person he is. When two creative people's minds work towards the same goal, the equation is a happy one," he says. Hrithik shed his debonair good looks to look unwell and fat for the film, which marks Bhansali's return after the debacle of 'Saawariya' in 2007.
The actor says that for once it was fun to let go of control. "After 15 years of disciplined diet, workout, I decided to live on another extreme. I stopped going to the gym and fed myself batata wadas and samosas, popcorns and other fried stuff for six to seven months." Hrithik says 'Guzaarish' does not take any stand on mercy killing.  
"It is an individual story and the audience has to see the issue of mercy killing from the point of view of the character. It is not about mercy killing but the strength of a paraplegic who lives a full life of 14 years after the accident and win accolades. When he finds out that his body is failing, he asks doctors if his organs like liver, kidney and lungs can be saved. He has lived a magician's life. He does not want to watch curtains come down...He wants to gallop to the end with his eyes open," Hrithik says about the role.  
Bhansali, who returned to direction after the debacle of 'Saawariya' in 2007, is also debuting as a music director and choreographer with the film. "I was shocked to discover that Bhansali is one of the best dancers we have and the most unbelievable music director," says the actor, who is among the best dancers in the industry. PTI