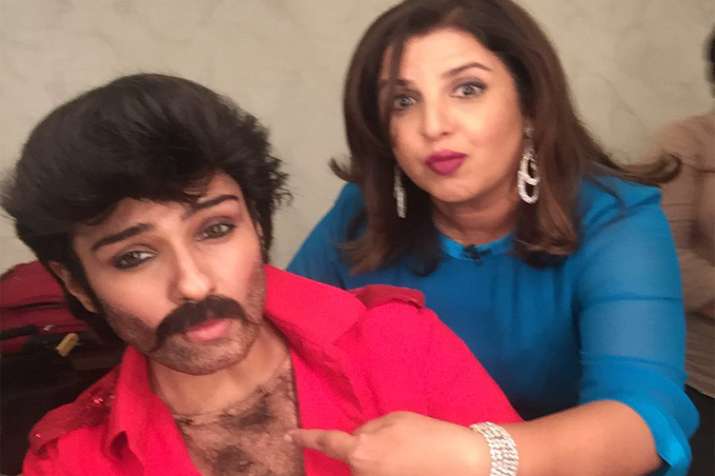 Chorographer-turned-director Farah Khan, who will soon be seen hosting a reality show Lip Sing Battle, has shared a picture with the doppelganger of veteran actor Anil Kapoor. Well, looking at the photograph, it is hard to guess the name of the person resembling with the actor. As soon as Farah shared the picture, even the internet was confused. But, then actress Raveena Tandon's post burst the bubble.
Farah shared a picture on social networking site Instagram. She captioned the image as, "GUESS WHO?? #lipsingbattle is just going bonkers!!"
Yes, it was Raveena, who was seen as Anil's duplicate in Farah's pic.
The actress posted the picture of her transformation on social media. She captioned the image as, "From this to that ! #beinganilkapoor #mymostfavorite #FarahMadeMeDoit #maafkaro #MrKapoor #allinadayswork #lipsingbattle #superfun #makeupwonders."
Farah also shared a picture with Ayushmann Khurrana and Raveena.
Now, people are more excited for the show and it seems that the director has a good project to entertain the masses. Many stars including Farhan Akhtar, Parineeti Chopra, Karan Johar and many more will be seen as guests on the show.
The show will go on air from September 16. Along with Farah, Lip Sing Battle will also have comedian Ali Asgar. 
For more entertainment news and updates, follow our Facebook page