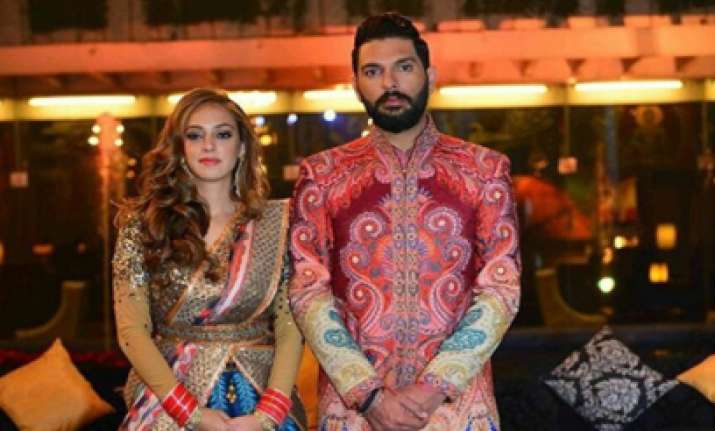 Indian cricketer Yuvraj Singh and Salman Khan's Bodyguard actress Hazel Keech, who recently tied the nuptial knot seems to be enjoying their married life to the fullest. 
In a very short span of time, Yuvraj has proved himself to be a perfect husband and never forgets to take care of his wife even when he is abroad busy in any of his cricket series. 
Interestingly, the loving cricketer and actress couple keep updating fans about their life journey by sharing pics through the social platform. 
But you can't afford to miss the recent video which Yuvraj's wife Hazel shared with fans on her Instagram. In the video Hazel can be seen following and searching Yuvraj. She seemed to be in search of her husband. After a long search, she finds him in a massage room. Captioning the video Hazel wrote, ''Made a new friend @yuvisofficial ! He's handsome. Stacy the stalker making lots of friends today #stacythestalker #stickingtoyoulikeglue#bff @sagarikaghatge @aesha.dhawan5@sakshisingh_r''
Yuvraj wearing his Indian blue tee was spotted relaxing and enjoying some massage, where his wife along with her friends entered the room suddenly.
Also Read: Really! Yuvraj Singh and Hazel Keech to participate in 'Nach Baliye 8'?
Yuvraj giving a shocking expression to his wife immediately said stop stalking me. This was not it, Yuvraj shocked fans when he called Hazel abnormal. Yuvraj further said to his wife that abnormal people are not allowed in this room. 
Obviously, Yuvraj said all this on a lighter note and as usual he was just teasing his wife. 
For more Entertainment stories click here