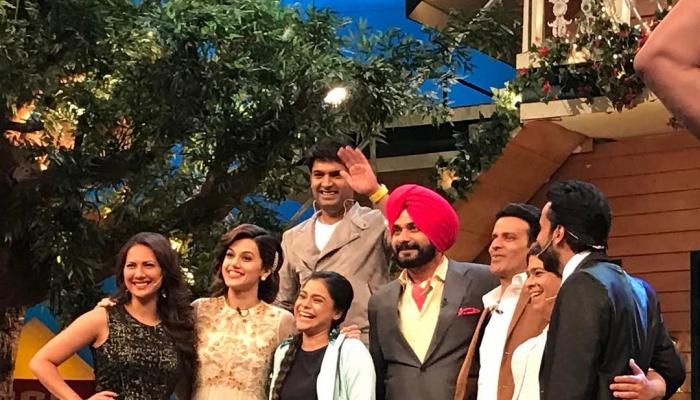 Bollywood celebs Taapsee Pannu along with her 'Naam Shabana' co-star, Manoj Bajpayee, reached 'The Kapil Sharma Show' to promote their film. Though the actors had all the fun, but they missed the epic comedy of Dr Mashoor Gulati.
This Saturday turned out to be a saddest one in the history of ''The Kapil Sharma Show'. As the punches of Sunil Grover aka Dr Mashoor Gulati and all the funny acts of comedian Ali Asgar aka Dadi was missed a lot, not only by the audiences but the celebrity guests as well. 
Comedy punches that were missed on Saturday episode of 'The Kapil Sharma Show'.
The funniest punchline of Dr Mashoor Gulati, whenever, Kapil Sharma used to push him to sit on the chair, ''Aise Koun baithata hai bhai'', was missed a lot in Saturday episode of the 'TKSS'.
The 'Naam Shabana' actress, Taapsee, who reached 'TKSS', along with her 'Naam Shababa' team might have missed, Dr Mashoor Gulati's common way of treating the actresses and checking their sugar level.
Dr Gulati's comic way to entertain the actresses for instance, the  Aishwarya Rai's episode, when she visited the show to promote her film 'Sarabjit', was epic in the history of 'TKSS'. Audience and Aish loved the fun element added by none other than stand-up comedian Sunil Grover.
Actor Manoj Bajpayee, might have missed the funny pranks of Rinku Bhabhi, which Sunil used to play with all the male actors visiting the show.
The celebrity guests Taapsee and Manoj even missed the fresh hand-made 'dubai wali chai' from chandu chaiwala (Chandan Prabhakar) as he also skipped the show. 
According to the reports, Sunil Grover is all set to come up with a new comedy event to be held in Delhi soon.