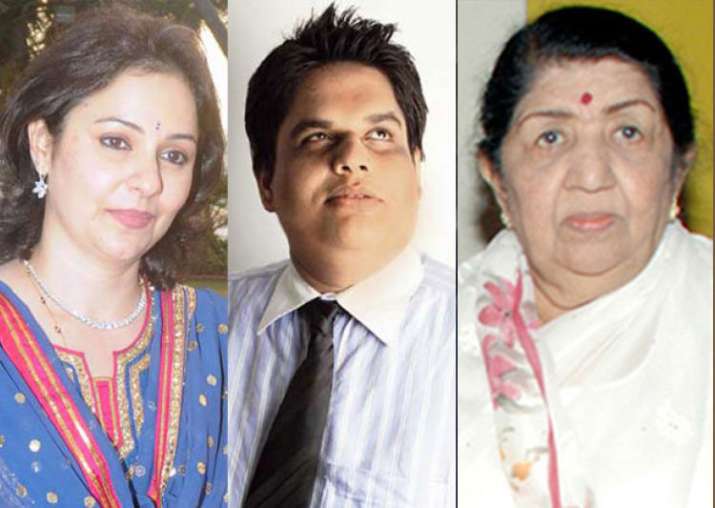 New Delhi: AIB's comedian Tanmay Bhat sparked a controversy after he posted a face-swapping video making fun of legends Sachin Tendulkar and Lata Mangeshkar on May 26.
The whole of Internet including politicians and Bollywood personalities have come out to ridicule the comedian's ghastly comic act and slam him from forgetting difference between humour and insult.
From Sachin Tendulkar's wife Anjali Tendulkar to filmmaker Satish Kaushik, everyone is expressing displeasure over the way two national icons have been depicted in the video. Melody queen Lata Mangeshkar too have registered her thoughts over the video in a conversation with an entertainment portal.
As Tanmay Bhat continues to be man on fire, here's take a look on who said what over the controversial video.
1. Lata Mangeshkar
"I have not seen the video, neither do I have any inclination to do so. I will not comment about it. By the way, I don't know who is Tanmay Bhat"
2. Satish Kaushik
It is so sad & disrespectful to make fun of national icons and treasure @mangeshkarlata @sachin_rt..Tanmay u call this humour? Shame on You!

— satish kaushik (@satishkaushik2) May 29, 2016
3. Anjali Tendulkar
4. Celina Jaitley
Absolutely.. Shocked n appalled!! Not amused @mangeshkarlata ji needs to be apologised to .. NOW !! @rasheshshah https://t.co/viTcXyBSI0

— Celina Jaitly (@CelinaJaitly) May 28, 2016
5. Rietish Deshmukh
Am absolutely shocked. Disrespect is not cool and neither is it funny. https://t.co/ymYPi9hxuv

— Riteish Deshmukh (@Riteishd) May 28, 2016
6. Ashoke Pandit
The video by @thetanmay is a classic example of #CulturalTerrorism in the name of humour & FOE. #TanmayRoasted

— Ashoke Pandit (@ashokepandit) May 30, 2016
7. Aaditya Thackeray
I don't comment on such issues bt ashamed tht sometimes we celebrate below-mediocrity of desperate attempts, far from talent n mimicry

— Aaditya Thackeray (@AUThackeray) May 28, 2016
8. Sonu Nigam
9. Ram Gopal Verma
Blaming AIB for spoof on Lataji is like blaming a monkey about a monkey for being a monkey.True sense of humour is ability 2 laugh at anyone

— Ram Gopal Varma (@RGVzoomin) May 30, 2016
AIB spoof on Lataji is in very bad taste but isn't AIB about that only? How they screw great institutions like Marriage,families,people etc

— Ram Gopal Varma (@RGVzoomin) May 30, 2016
10. Vishal Dadlani
It's OK, it's all good. Sachin is a legend & @mangeshkarlata is a Goddess. Their glory isn't gonna be lessened by a rude joke. Calm down!

— VISHAL DADLANI (@VishalDadlani) May 29, 2016
11. Anupam Kher
I am 9 times winner of #BestComicActor. Have a great sense of humor. But This's NOT humor. #Disgusting&Disrespectful https://t.co/sTuTfbAOrU

— Anupam Kher (@AnupamPkher) May 29, 2016
12. Subhash Ghai
"People of India are terribly hurt by new comedy/jokes on elders icons the inspirations to generations. Learn to respect elders. Stop it here."
13. Shatrughan Sinha
"I'll recommend fast-track criminal cases against him. What he's done is a humiliation for the entire nation. I hang my head in shame at the kind of mudslinging being perpetrated in the name of humour."
13. Salim Khan
"I dunno the details of it but whatever I have heard is totally disgusting and it should not be done at all. It should be discouraged."
14. Sonam Kapoor
Dear @thetanmay ,being your friend I know what you say and do is never to offend, but to make people laugh.. https://t.co/O2kFj0dhjX

— Sonam Kapoor (@sonamakapoor) May 31, 2016
Don't you guys think there are issues that are more important than @thetanmay snapchat jokes??? I'm in shock with this over reaction!

— Sonam Kapoor (@sonamakapoor) May 31, 2016
Being living legends I know @sachin_rt and @mangeshkarlata don't even know and care about what's going on!stop spewing hate on their behalf!

— Sonam Kapoor (@sonamakapoor) May 31, 2016
15. Javed Akhtar
This chap has the mind of a cockroach. Humour is something we all appreciate. But what is funny about ridiculing Lataji? The video is cheap and unworthy of getting any attention. The chap had not bargained for the backlash. Since he had gotten away with so much crassness in the past he thought he would get away this time. But there are celebrities. And then there is Lata Mangeshkar. You can't get away with ridiculing her.
16. Vinod Kambli
"I felt deeply hurt when that man made fun of Lata Mangeshkar. She is like a mother to us and he made fun of SRT 2 (Sachin Tendulkar too). I've spoken to my lawyer about filing a defamation case. That guy used filthy language about me also (sic)."
17. Asha Bhosle
"I have not seen the video nor do I intend to. My grandson Chintu informed me about it as I don't even watch television. I don't want to say anything except for we are talking about a woman (Lata didi), who has worked for 70-80 years of her life, spreading joy and happiness through her music. I now want to wait and watch how many people will stand by us. Most people have a knack of debating about it for a couple of days and forgetting about it. Aaplya deshat, Bharat Ratnancha kiti aadar aahe hey baghaycha aahe (I want to see what respect and honour do the Bharat Ratnas get in our country). The government has bestowed this honour upon them. They must make a note of this."
18. Meena Khadikar
"We don't know who this man is nor have we discussed this issue with Lata didi. Even news channels should follow some discretion and avoid replaying that video on TV as our phone hasn't stopped ringing for the past two days. She is 86 years old. Her health is sensitive and this is the last thing she needs to know."
Currently, Mumbai Police is investigating the case after Raj Thackeray's party MNS registered an FIR against the comedian. However, Tanmay Bhat, on other hand, has refused to apologize over the matter.