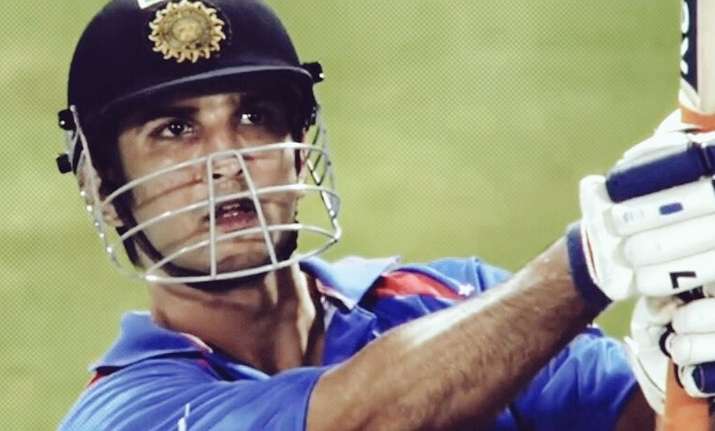 After much buzz 'MS Dhoni: The Untold Story' released today starring Sushant Singh Rajput in titular role. The biopic on one of the most successful captains of Indian cricket team Mahendra Singh Dhoni, this Neeraj Pandey directorial was awaited by cine and cricket buffs alike.
Now that the longing has come to an end, the first reactions to the movie are tremendously amazing. The first viewers took to micro blogging website Twitter to write how perfectly Sushant has essayed the role of Captain Cool. Few viewers have called this movie Sushant's role of a lifetime, an indication that all his hard work has bore fruit finally.
The story of an underdog who hailed from a small town and went on to become India's most loved captain for a sport which is no less than a religion- cricket, 'MS Dhoni: The Untld Story' captures every emotion impeccably.
Like the makers reiterated time and again that the movie doesn't glorify Dhoni but tells his journey, the ones who walked out of the theatres felt the same. Apart from his cricketing career, this movie is about his life before he made it to the Indian squad, his love life and how he fought with conservative mentality to not settle for what came his way.
It must have been difficult for the makers to narrate the biopic of a sportsperson who is very much active in his sport, as his game has been witnessed by people recently. So bringing alive to the silver screen those nuances hold importance else viewers won't be able to connect with it. Looks like, the makers did a good job at it, as so far the reviews for the movie have been rewarding.
Check what the Twitter users have to say about the movie.
Be it mannerisms or style, Sushant Singh Rajput has made sure audience is convinced that he is Dhoni #MSDhoniTheUntoldStory

— खबरीलाल (@raghavjaitly) September 30, 2016
Finally #Besabriyaan over here...

Fabulous acting by @itsSSR as #Mahi #MSDhoni ❤❤❤❤

Worth watch #MSDhoniTheUntoldStory

— समुंदर.. (@nicky6676) September 30, 2016
Goosebumps & some more Goosebumps! Just came out of the first show. Great story @msdhoni and take a bow @itsSSR #MSDhoniTheUntoldStory

— Selin Gurjar (@SelinGurjar) September 30, 2016
#MSDhoniTheUntoldStory a heaven like experience for cricket fanatic like me, very gripping and substantial rejoicing, MUST WATCH.

— Deepak Sharma (@CrazyDeewana) September 30, 2016
@msdhoni @itsSSR supeeerebbb oneee...Hatsoff..movie gonna rock..superrbb life nd perfectly shown #DHONISM #MSDIAN #MSDhoniTheUntoldStory

— Laxesh Dave (@TheLaxesh) September 30, 2016
What an epic finish.. Narration was bit slow.. but can be manageable.. goosebumps climax !! Must watch #MSDhoniTheUntoldStory

— Sridath (@DathuRulz) September 30, 2016
Just brilliant #MSDhoniTheUntoldStory @msdhoni .... after a very long time a movie tht has exceeded all expectations. Awesome movie pic.twitter.com/r7M41QiopX

— Swati Varma (@Devil1983) September 30, 2016