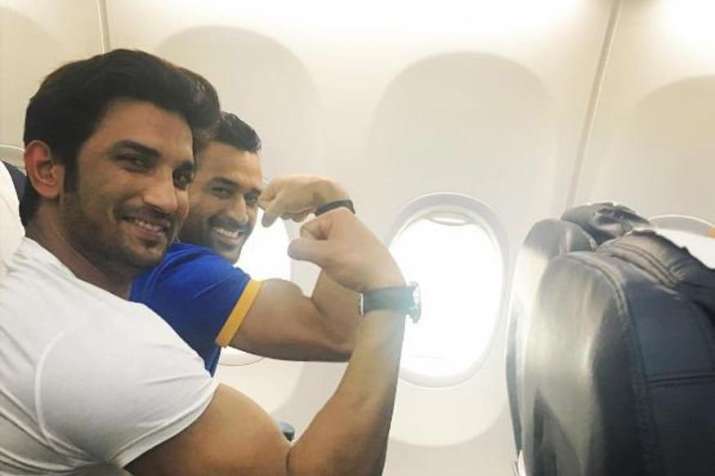 Actor Sushant Singh Rajput's upcoming movie 'MS Dhoni: The Untold Story' is making all the right noises. The movie which is one of the unions of cricket and films, will hit the theatres on 30th September and the fans are finding it difficult to house their excitement.
Before impressing fans of Dhoni and cinema in the biopic, SSR has apparently amazed someone close to Dhoni. Media reports have it that MS Dhoni's real life coach KR Banerjee is mighty impressed with Sushant and cannot stop singing praises for the actor.
KR Banerjee has been a rock solid support in Dhoni's life and he was among the first people to see his potential. In the movie, actor Rajesh Sharma will play the role of Banerjee.
The coach is apparently happy that Sushant picked up the little nuances of India's captain of limited overs. The way Sushant can be seen carrying himself both on and off field is what is reportedly liked by Banerjee.
To perfect the role, Sushant worked under Kiran More, the person who coached Dhoni.
Recalling his days when he was practising, Sushant had said,
"On second or the third day of the training, Kiran More who was my trainer, asked me to wicket keep. And I always thought it was an easy job. But let me tell you after 30-40 seconds, I could not sit in that posture. I got backache, cramps in my chord, broke my finger, bruised all over and its such a tough job. I now have immense respect for the all Cricketers."
Looks like the immense hard work he put in has bore fruits. Mr Banerjee is impressed and the final verdict now lies with the viewers. With the way the trailer has been received, it wouldn't be flattering to say that Sushant might have already hit a six.