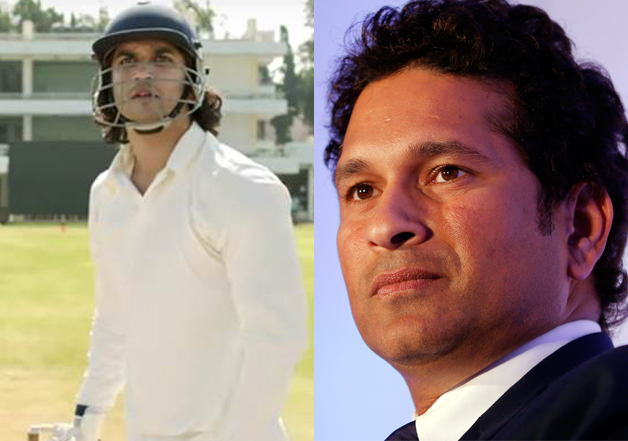 Actor Sushant Singh Rajput has put his heart and soul into his upcoming movie 'MS Dhoni: The Untold Story' in which he plays the titular role. In his recent interviews, Sushant revealed how he practised day in and out to perfect the role. But little does anyone know that even the God of Cricket Sachin Tendulkar thought Sushant was a professional cricketer when he saw his practising.
At the launch of the song 'Har Gully Mein Dhoni Hai', Sushant narrated a particular incident where he was practising at the Bandra Kurla Complex under Dhoni's real life coach Kiran More. Sachin happened to pass from that place and on seeing Sushant practise asked Mr. More which team the boy plays for. It was then that Kiran More told Sachin that the boy practising is an actor.
Also Read: VIDEO! The second promo from 'MS Dhoni: The Untold Story' reveals how our Captain Cool met his first girlfriend Priyanka
This incident speaks volumes about how well Sushant has followed the mannerisms of Mahendra Singh Dhoni, the captain for Indian ODI Team.
Speaking about the song 'Har Gully Me Dhoni Hai', Sushant said that the song is a metaphor which means that if you believe in something you can achieve it. Sushant, who was accompanied by the director of the biopic Neeraj Pandey at the launch, added that the celebratory song is an ode to the movie. He also said that Dhoni hasn't seen the song.
When media personnel asked Neeraj if Dhoni will be seen in the movie or no, Sushant answered in the negative. 
 

"It's a biopic on him. Mahendra Singh Dhoni won't be a part of the film," Neeraj reportedly said.

 
The biopic will hit theatres on September 30 and also features Anupam Kher, Disha Patani and Kiara Advani in pivotal roles.