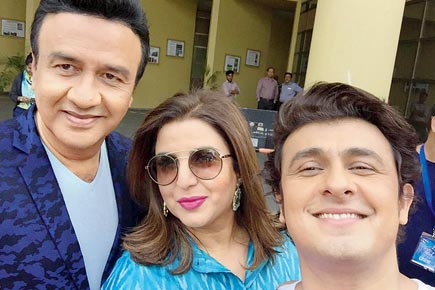 Renowned singer Sonu Nigam will once again be seen judging the singing based reality show 'Indian Idol' season 9 and he is nostalgic to be back on it.
Sonu will be accompanied by Farah Khan and Anu Malik on the show. Interestingly, this trio is reuniting after a gap of twelve years and the singer is quite excited about it.
"The benefit of working with friends is that it doesn't make you feel like you are working at all. We all share a great bond," Sonu said.
Talking about the Indian Idol the singer feels that it is hard to fake on the reality show as it is based purely on talent.
"Those are the gimmicky reality shows where yelling and shouting make you popular. One can't fake it on talent based shows as your skills are for everyone to see. It's a mixed bag. There have been some great talent, and that to me is a big positive", Sonu said
"These shows have been penetrating through the interiors of our country and we have so much untapped talent. It's a great opportunity for them. Reality shows that broaden the talent pool are the ones I prefer rather than the gimmicky ones," he added.
(With IANS Inputs)