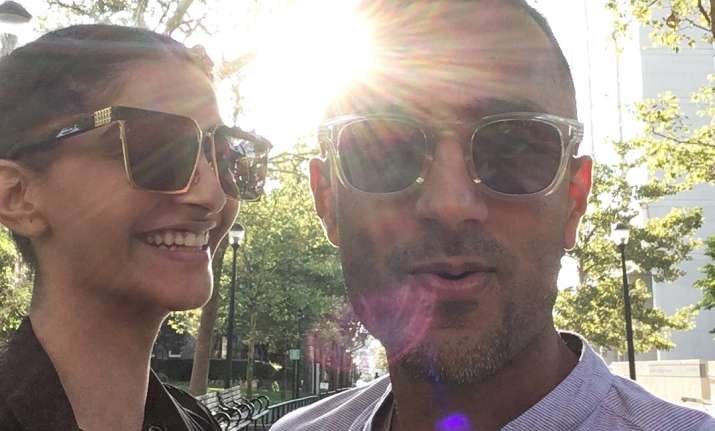 Bollywood actress Sonam Kapoor who has been dating her businessman boyfriend Anand Ahuja for quite some time, is all set to walk the aisle with her man. The 32-year-old actress will tie the knot with her beau over a two-day ceremony on May 11 and May 12 in Geneva. According to the Mumbai Mirror Report, the actress took a small vacation with Anand Ahuja in London last week. She is now in Austria for a five-day spa retreat at her favourite resort.
The leading tabloid reports read, "The date and venue for the wedding have been locked and mass bookings for flights are presently underway. Her dad Anil Kapoor is personally making phone calls to invite guests. There will be sangeet and mehendi ceremonies, followed by a traditional Hindu wedding. The nuptials will be preceded by an engagement ceremony attended by the family's inner circle but the venue for that is presently not known."
But why Geneva?
Sonam Kapoor is the brand ambassador for a luxury Swiss watch manufacture and was recently in Geneva. She was pretty smitten by the beauty of the place and hence, she decided to take her wedding vows there, according to the Mirror.
This designer will design Sonam Kapoor's wedding trousseau
As per the report, famous designer Abu Jani and Sandeep Khosla will design the wedding outfit for Sonam Kapoor. Also, close friends and British designer Tamara Ralph and Michael Russo will also pitch in for designing Sonam Kapoor and Anand Ahuja's wedding ensemble.
For the uninitiated, Sonam Kapoor and Anand Ahuja have been dating for the past two years. Their relationship came into limelight when Ahuja turned up at Anil Kapoor's 60th birthday celebration in London in 2016. They are frequently spotted vacationing together. Although, Sonam Kapoor hasn't spoken anything about her relationship status, but her frequent PDA's on Instagram speak a lot in itself.
On Valentine's Day, Sonam Kapoor shared a mushy picture with Anand Ahuja and wrote, "Conquer the devils with a little thing called love." Bob Marley. Happy Valentine's Day! Everyone deserves to love and be loved!"
Anand Ahuja also dropped an equally romantic reply on his girlfriend's picture. He wrote, "There's love and there's fear. You can't have one when you have the other. I'll never have fear again because of you."