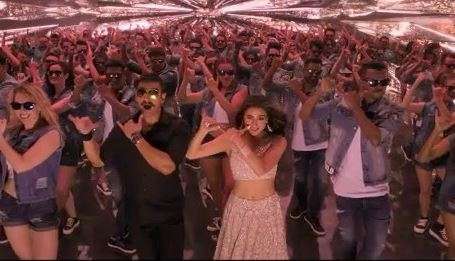 Simmba, directed by Rohit Shetty, is just a couple of days away from its theatrical release. The film is releasing this Friday, just a week ahead of Shah Rukh Khan's Zero. It has Ranveer Singh and Sara Ali Khan in the lead role. Going by the trailer, the film continues from the end scene of Singham where a young boy aspires to become a police officer like Ajay Devgn. This child grows up to become Ranveer Singh, a police officer, but a corrupt one. Just a couple of days before the release, the makers dropped another quirky track from the film Mere Wala Dance.
The song features not only Sara Ali Khan and Ranveer Singh but also Singham Ajay Devgn. While Ranveer and Sara match steps in the song, Ajay Devgn beats the enemies blue and black in Khaki uniform. It drops a major hint that Ajay Devgn has a role in the film. Ranveer can also be seen saluting to Ajay Devgn before getting into a fight.
For the dance sequence Ranveer is seen in all-black attire with sleek hair and shades. Mera Wala Dance is sung by remix queen of recent times Neha Kakkar and Nakash Aziz. The song has been composed by DJ Chetas and Liji George.
Simmba is set to hit the theatres on December 28. The film is expected to thwart the box office numbers for Shah Rukh Khan's Zero, which is slowly inching towards the 200-crore mark. The film has Sonu Sood, Ashutosh Rana in important roles.