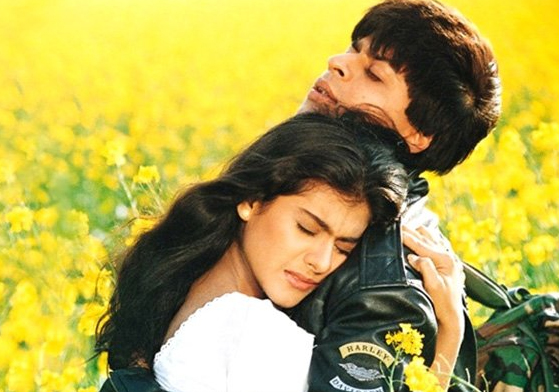 The Twitter trends this morning confirmed what we already know about the super-hit movie 'Dilwale Dulhaniya Le Jaayenge' that it never gets old. Today the movie observed its 21st anniversary. It was on this date in 1995, the love saga of Raj and Simran went from the silver screen to people hearts.
This Aditya Chopra directorial starring Shah Rukh Khan and Kajol in the lead resonated with a million cine lovers.
Every girl wished to find a soulmate like Raj, who crossed continents to be with the girl he loved Simran.
Fans of this movie would agree that everything about this movie was perfect. From SRK's dedication, Simran's stubbornness to be with him to Amrish Puri's adamant nature; every bit and part of the plot contributed in making this a blockbuster.
Other than being a cult romantic movie, DDLJ was a visual treat. The Europe and Punjab shown in the film made people aspire to visit those places.
All in all, DDLJ is one movie that no one can ever get enough of.
On completion of timeless years of DDLJ, netizens spoke about it on micro-blogging website Twitter all day. There were some who mentioned about the scenes they loved, while other shared their first experiences from the movie.   
Here are the tweets which further assert that DDLJ is the movie which created history:
@iamsrk @KajolAtUN
Come Fall In Love Again....💓@yrf Thanks For My Best Of The Best @DDLJ 💖@udaychopra
21 YEARS OF TIMELESS DDLJ pic.twitter.com/BGaP5wIdR2

— Bauua's AniPie ♥️ (@iamSRKsAni) October 20, 2016
How can it be... 21 YEARS OF TIMELESS DDLJ already? @iamsrk cheers and thank you for teaching so many of us how to love.. #WajahTumHo

— Manoj Muntashir (@manojmuntashir) October 20, 2016
I remember my parents telling me that I went with them to see DDLJ when I was barely even a year old! 21 Years Of Timeless DDLJ #timeflies

— ARMAAN MALIK (@ArmaanMalik22) October 20, 2016
21 Years of TIMELESS DDLJ pic.twitter.com/yNqXQZQf12

— Rehan Khan (@Rehan_SRKian) October 20, 2016
DDLJ is the greatest and most loved film. Thank u @iamsrk & Kajol for this awesome film.
21 YEARS OF TIMELESS DDLJpic.twitter.com/pUkk9GKAZa

— нαηιғ (@HanifTheSRKian) October 20, 2016
21 years of Timeless DDLJ @SRKsZindagi @LiaaaSrk @i_MadhuSRKian @iamansrkaj @JacyKhan @Ravishing_Zaara @Muffin_SRKian @iampuja29 @srkdiba pic.twitter.com/NMmVATopzr

— Rehan Khan (@Rehan_SRKian) October 20, 2016