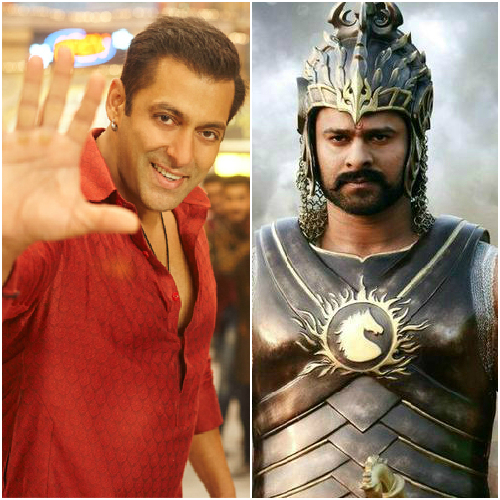 Emerging as one of the most bankable Indian films, Baahubali 2: The Conclusion has broke a number of records. However, Salman Khan who is all geared up for his next release Tubelight, recently said that he isn't worried about any box-office records.
The Bhai of Bollywood Salman thinks every movie has its own destiny. Baahubali: The Beginning released on July 10, 2015, a week before Salman's Bajrangi Bhaijaan. 
Also Read: Salman Khan steals your heart in Tubelight trailer, Shah Rukh Khan's cameo is a delight
Baahubali: The Conclusion, which hit theatres on April 28, has so far collected over Rs 1500 crore across the world. After 'Baahubali: The Beginning, we came up with Bajrangi Bhaijaan. Now after 'Baahubali: The Conclusion', we are coming up with 'Tubelight'. There is a lot of pressure on the CEO of Salman Khan Films. I don't get worried so much. It is a phenomenal success and it is amazing. 
"I have not seen the film but I will watch it. But it doesn't matter (box office records) as I think every film has its own destiny. Lets see what the destiny of 'Tubelight' is and how much it earns," Salman told reporters here at the trailer launch of "Tubelight". 
The Dabangg star on a lighter note further said, "They (referring to Rajamouli doing one film in four years) do one film in four years, I do two films in a year and the average is that much." 
Salman's brother, actor Sohail Khan, who also stars in "Tubelight", said it's good if a movie sets a record at the box office. 
"It's lovely when a film does well commercially as it sets a yardstick (for other films). It's nice that 'Baahubali...' did well," Sohail said. During the launch, Salman seemed emotional while talking about his other co-star, legendary actor Om Puri. 
"The strange thing is whenever I see the trailer, teaser or song, I see Om ji and it kills me. I have done a lot ofwork with Om ji and I felt one moment he was there and then he 
was gone. I don't actually enjoy watching the trailer, song or teaser as I can see him there," Salman said. 
The "Bajrangi Bhaijaan" star said he is deeply saddened to have lost three very close people in the last few months - veteran actor Vinod Khanna, his on screen mother Reema Lagoo and Puri. 
"We just lost V K (Vinod Khanna) sir, he was an amazing person. While I was shooting, I heard about the demise of Reema ji. It's sad that I lost three very close people in the last three or four months." 
Directed by Kabir Khan, "Tubelight" also features Chinese actress Zhu Zhu. The film is scheduled to release this Eid. 
(With PTI Inputs)