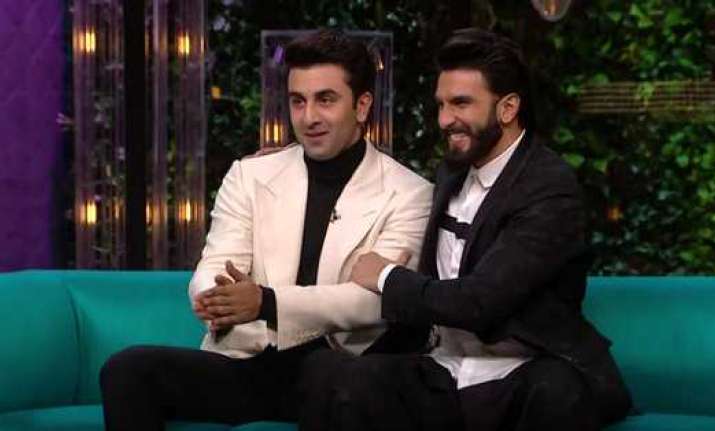 Ranveer Singh, who became the talk of the town because of his recent appearance on  Koffee With Karan season 5 with Ranbir Kapoor, admits he shares a great camaraderie with the actor.
The two heartthrobs of the nation recently took the nation with a storm after they made their first ever together appearance on Indian Television.
Indeed the two actors and their chemistry was the highlight of the show, given the unusual connection between the two.
Ranveer is dating actress Deepika Padukone who happens to be Ranbir's ex-girlfriend.
It was assumed that this link might make Ranbir-Ranveer feel awkward in each other's company. However, contrary to all the assumptions, Singh stated that he shares a good bond with the 'Barfi' actor.
In fact, the actor also asserted that he enjoyed Kapoor's company on the chat show.
"I watched the show and I thought it was damn funny", Ranveer said.
Both the actors made several head-turning statements on the show, which indeed helped it grab the headlines.
On the show, Ranbir said that Ranveer and actress Deepika Padukone should marry and make awesome babies together.

Besides, Ranveer stated that junior Kapoor should hook up with Knagana Ranaut.
However, the 'Bajirao Mastani' actor has clarified that the gossip happened on the show are not mean't to be taken seriously.
""'Koffee with Karan' is a timepass show. A lot of silly talks happen in the show which shouldn't be taken seriously", he added.
Currently, Ranveer Singh is busy promoting his upcoming movie 'Befikre' opposite Vanai Kapoor. Helmed by Aditya Chopra, the movie is scheduled to release on December 9 this year.
(With IANS Inputs)