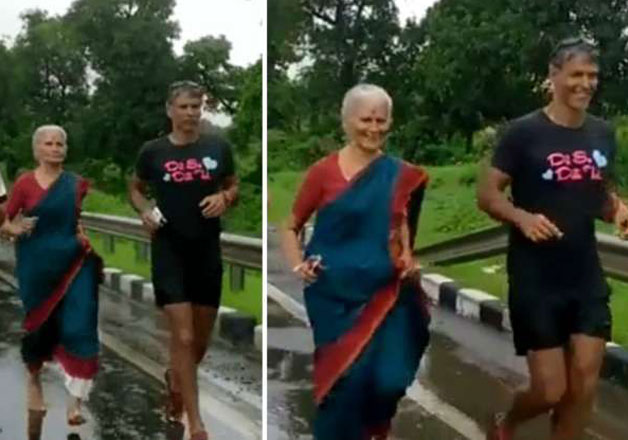 It would not be an exaggeration if we say Bollywood actor Milind Soman has become the poster boy for marathon running and fitness at 50 in India. He recently successfully completed the 'Ironman Triathlon', which is considered as one of the world's toughest races.
Nowadays, he has been participating in 'The Great India Run' – a two week long Marathon between Ahemadabad and Mumbai.
And if you are amazed by this man's dedication, then wait until we tell you about his mother. Usha Soman, the 76-year-old lady has joined her son in the marathon.
In a video posted by the Great India Run on their Facebook page, she can be seen running in sari and barefoot. The 20 second clip has gone viral for obvious reasons. Within a day of being posted, it was viewed nearly 350,000 times, with close to 5,000 shares on the social networking website. And the numbers are going up constantly.
Take a look.
We are sure these 20 seconds of awesomeness will give you life goals. Interestingly, it is not the first time that Usha Soman has amazed everyone with her fitness level. A couple of years back also, she walked 100km in less than 48 hours for the Mumbai Oxfam Trailwalker. She, reportedly, did it without any help or medical assistance.
Isn't that amazing for a woman of her age to be that fit. How many of you can boast of that fitness?