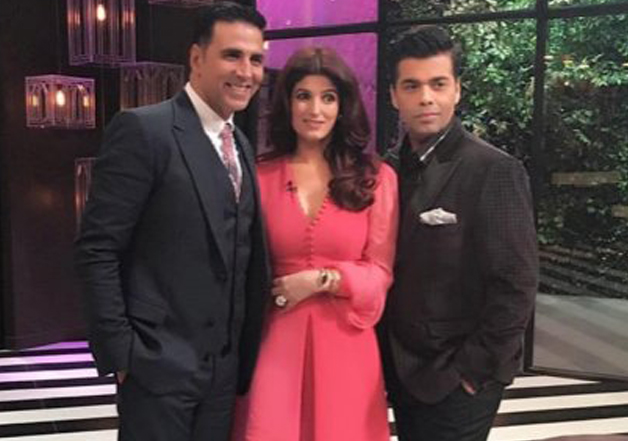 Hosted by filmmaker Karan Johar, chat show 'Koffee With Karan' is where Bollywood stars are seen at their candid best which is why the ongoing season was highly awaited. The second episode will have star couple Twinkle Khanna and Akshay Kumar sitting on the couch opposite KJo and it has already created a lot of buzz.
The promotional videos of the episode highlight it is definitely going to be a memorable one. Twinkle, who is a childhood friend of Karan, will make her debut on the chat show and her sarcastic answers have already won the Internet.
So, what prompted the real 'Mrs Funnybones' to agree to Karan's show after being absent from all the four seasons, since 2004. To this question, Twinkle replied to a leading daily that since Karan has been there for her all her life, she wanted to return the favour.
Twinkle went on to say that being on the show was equal to a normal conversation that the three of them have in leisure. She said it was all the same, she cracking the same jokes, Akshay making the same rants about her.
The appearance on the show turned out to be rewarding for Twinkle as she defeated Akshay for the hamper. Telling on what led her to the win, Twinkle said maybe the diplomatic answers. She said during the rapid fire round she was disinterested to rank people and hence got the hamper.
Going by the promotional videos, the second episode is going to be very bit entertaining. One particular statement by Twinkle that baffled everyone was when she asked KJo to keep his eyes off Akshay's crotch, leaving both the men dumbfounded. She was also blunt about the fact that she was the only woman Karan loved whole-heartedly.
We are sure fans of Twinkle would be just happy to see more of her basic sarcastic nature beyond social media.