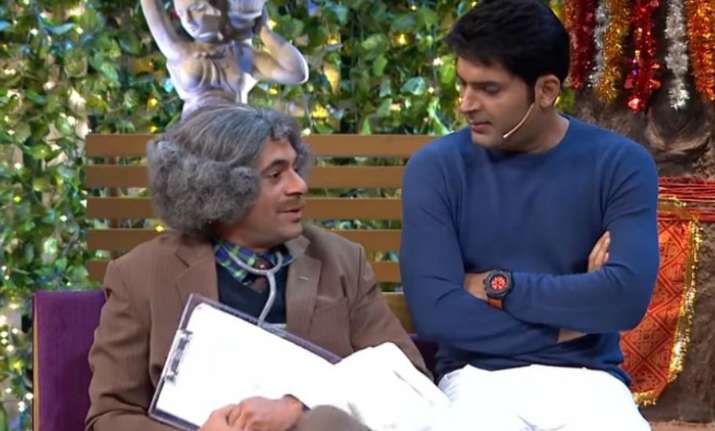 At a time when majority of the people are poking fun at comedy king Kapil Sharma, there are die-heart fans of the comedian, who refuse to let go off Kapil even in his tough times.
Kapil's ugly spat with good friend and co-star Sunil Grover seems to have brought all the bad luck for the comedian. 
Speculations are rife that "The Kapil Sharma Show" will go off-air as the producers of the channel (Sony Entertainment Channel) aren't happy with Kapil replacing Sunil with new set of comedians.
Buzz has it that Kapil has brought in new set of comedians which include Raju Shrivastava, Sunil Pal, Ahsaan Qureshi and Rajeev Thakur.
Along with Sunil, reports suggest Ali Asgar aka Pushpa Nani and Chandan Prabhakar aka Chaiwalla have also called it quits to Kapil's show.
Things are definitely not looking good for Kapil and his show. In such a scenario, a number of Kapil fans have spread the feeling of love and dedication towards their favourite comedian through social media.
Yes! Twitter has exploded with warm wishes and good lucks for the comedy king.
Here's what the committed fans of Kapil said.
U say whatever u want to say he will never Change! #KapilvsSunil #GetBackKapilSunil #KapilSharma #Sunilgrover pic.twitter.com/0bIDGc4kVj

— Rahul (@Im_rahul_11) March 24, 2017
Kapil now it's time to prove the world again!!😁Show dem u are de same Kapil Sharma who won cc 's 6 seasons alone @KapilSharmaK9 🙌just do it!

— ❥. naina noor wale. (@ChawalaRiya) March 23, 2017
Galti sab se hoti h ... He apologized .. Dats it

Bas logo ko news chahiye news.

Wtevr it might b i stil hv same respct for KAPIL SHARMA

— SiyyYappPaaaa Queenn (@siyappaQueenK9) March 25, 2017
This is our @KapilSharmaK9 not the one few r demonizing for his one unintentional mistake #GetBackKapilSunil
I Support Kapil Sharma pic.twitter.com/sd6nhjCekW

— akanksha (@jakanksha92) March 23, 2017
That my (#kappilian) reaction when someone said KAPIL is not best 🙅🙅
Mr smile maker you the best @KapilSharmaK9 #kapilsharma 😘😘 pic.twitter.com/6ASIjfsiMJ

— soanm singh...😜 (@sonam_kapil_fan) March 20, 2017
COMEDY is getting such respect now!
Entertainrs r nw highly recognized bz of #KapilSharma 👈 this man!
I SUPPORT KAPIL SHARMA always!

— DND - 📚 (@Maggie_K9) March 20, 2017
If a person is laughing out loud in a good way because of an Indian Comedy show, you know for a fact that the show has to be of KAPIL SHARMA

— tanya! (@Its_tANYA_) March 15, 2017