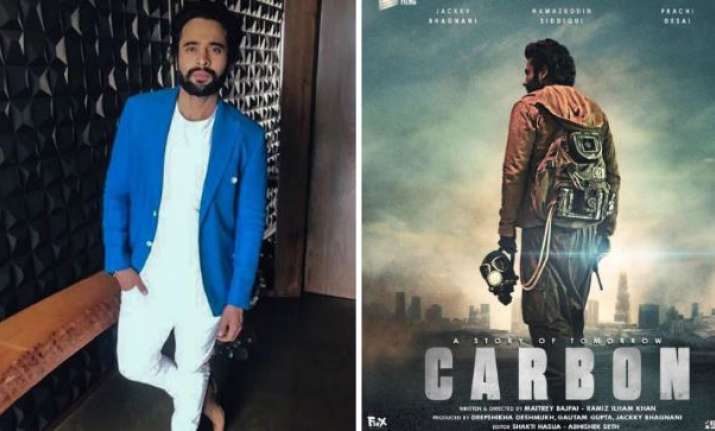 Embracing digital platform, the Youngistaan actor Jackky Bhagnani's production 'Carbon' is all set to release on Large Short Films' YouTube channel soon. This is not the first time Jackky has stepped into the shoes of a producer. His debut production Sarabjit was a big hit and garnered rave reviews.
However, Carbon is different as it revolves around the subject of global warming. The short film also stars Nawazuddin Siddiqui, Prachi Desai and Yashpal Sharma in prominent roles. While Jackky plays the man with an artificial heart in this movie on an environment, Nawaz essays the role of a man from Mars. In one of the interviews, Jackky said that Prachi and Nawazuddin didn't charge a penny for working in Carbon.
Set in 2067, the futuristic film portrays the scenario when there will be a dearth of oxygen and only carbon will prevail. Giving an insight into the war-like situation that can occur, Carbon shifts our attention to the grave problem that we have been ignoring.
In an interview with India TV, the actor opened up about things that drew him to take this risky project and challenges he faced.
INSPIRATION FOR CARBON
Jackky reveals that he was terrified when he saw smog in Delhi last year in winter which compelled everyone to wear masks while stepping out of the house. He draws his inspiration from actor and environmentalist Leonardo DiCaprio who has significantly contributed to the clean environment. He says, at a time when people are engrossed in their personal lives and problems, environmental issue is hardly a cause for concern. As he belongs to the film industry, he has taken the charge to narrate the story of an oxygenless atmosphere which might be possible if global warming continues. A film is the most convincing medium and being from the industry if I will not risk working in such social films, then who will, he asks. Everything is not done for money, I am fulfilling my social responsibility through Carbon, says Jackky.
CHALLENGES
According to Jackky, the biggest challenge was to make this sci-fi movie understood by viewers. Many people whom he approached didn't have faith in his intentions and some failed to understand the script. How will you show the 2067 set up, moreover how will be the lack of oxygen portrayed on the screen? These were the questions he was frequently bombarded with. Even his producer father Vashu Bhagnani didn't comprehend the script. Many were also sceptical as short films don't generate much revenues. Even branding doesn't cover the cost incurred in making the movie, says Jackky.
WORKING WITH NAWAZUDDIN SIDDIQUI AND YASHPAL SHARMA
When asked about how did he manage to bring on board such talented team, he answered that both Yashpal Sharma and Nawazuddin Siddiqui appreciated the thought and were convinced by concept. Even they enquired about how will the idea be conveyed to the audience. But after reading the script, they were impressed.
VENTURING INTO WEB SERIES
Jackky doesn't refrain from exploring digital platform which has gradually become popular among masses. "For me good and honest work matters", he said. "If there is a convincing script and role I'll surely be part of it", he added.
WHEN WILL BE JACKKY BACK ON BIG SCREEN?
To this, the 32-year-old actor said that he will soon be back and resume shooting. An official announcement from the production company is awaited. He said that all this while when he was away from the shoot, he was trying to set his priorities and goals.
Written and directed by Maitrey Bajpai and Ramiz Ilham Khan, the film is also co-produced by Deepshikha Deshmukh.
Watch the trailer of Carbon here: