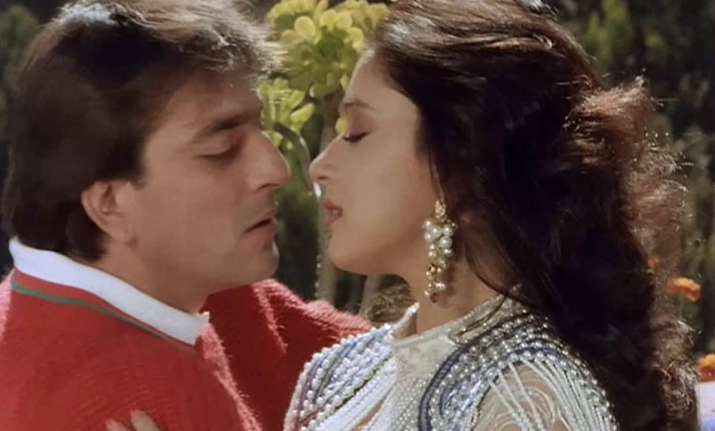 Bollywood's Munna Bhai aka Sanjay Dutt has always been controversy's favourite child. The happenings of his life makes up for a perfect pot-boiler on the silverscreen. As Sanjay Dutt biopic release is gearing near, fans are speculating as to what all incidents from Dutt's life has been showcased in the film. Apart from the 1993 Bombay blast case, Sanjay Dutt also made headlines for his alleged affair with his Saajan co-star Madhuri Dixit. Back in 90's, their industry friends believed that their affair was not a usual one. They were very serious for each other and could even sometimes talk about tying the knot.
As per the media reports, Sanjay Dutt was even planning to divorce his then wife Richa Sharma. According to the Yasser Usman's book 'Sanjay Dutt: The Crazy Untold Story of Bollywood's Bad Boy', Sanjay-Madhuri's love affair reached his wife in New York. Hearing the stories about her husband's alleged affair, she was getting restless and wanted desperately to save her marriage. When her cancer was getting better, she sought doctor's permission to return to India.
The media lashed out at Sanjay Dutt for abandoning his ailing wife. The Sanjay-Madhuri affair story in the book goes by the title 'Sunjay-Madhuri- Will Marriage Destroy Them Professionally? (February 1993). It said that the Saajan co-stars Sanjay and Madhuri braved it all. However, their unbending stand for their love did bring their images crashing down in the eyes of the fans who once idolised them.
In October 1992, Richa Sharma returned to India with daughter Trishala. She was now cured of cancer, but Sanjay Dutt was avoiding her. He had moved on. According to an interview with Richa's sister Ena Sharma by CineBlitz magazine, Sanjay didn't even come to the airport to pick his wife and daughter up.
After spending fifteen days in Mumbai, she flew back to New York suddenly. According to her family, the thought of living a normal life with her husband and daughter has motivated her throughout the cancer treatment. But now after Sanjay's neglect towards her, she was shattered.
Despite Richa wanting to work things out, Sanjay Dutt filed for a divorce in 1993, which started a bitter custody battle for their daughter Trishala. In 1993, Richa Sharma's cancer returned and Sanjay was lambasted by the media for his disregard towards wife.
At that time, Khalnayak director Subhash Ghai spoke in an interview about Sanjay Dutt and Madhuri Dixit's relationship with great authority. When Sanjay came to know about it, he said, "He knows me very well, no doubt, but not that well enough to know what's going on in my mind. But why should the press ask Subhash Ghai the questions pertaining to my personal life in the first place."
When he was told that Ghai in the same interview asserted that he is 100% sure that Sanjay will not marry Madhuri, he said, "There has to be something on between us for me to marry her."
Talking about his off-screen rapport with Madhuri Dixit, he said, ""She was friendly from day one because she was not Madhuri - the star when I first worked with her."
When Sanjay Dutt was asked if he implied he had nothing to do with her, the actor replied in a nod quickly. He also added, "I wish I had a scene going on with Madhuri. But I don't!"
Sanjay Dutt and Madhuri Dixit's relationship came to an abrupt end after the actor's TADA arrest took place.