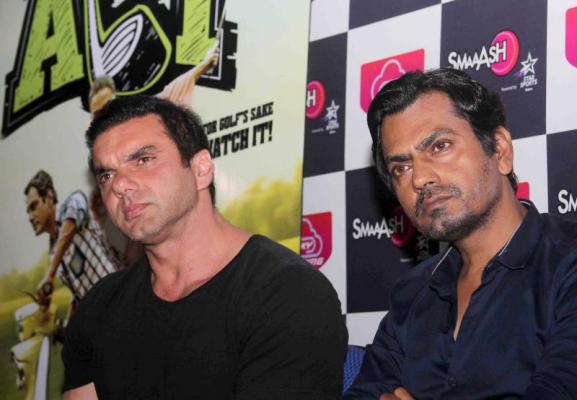 Sohail Khan who has donned the hat of director for 'Freaky Ali' has said that the movie is an inspirational one. Sohail, during a promotional event for the movie which stars Nawazuddin Siddiqui in the lead, said that they wanted to break the myth of golf being a rich man's game.
"When we were researching, we visited various locations. Infact a lot of people said this to us that the myth (about golf) is that it is only played on Sundays, only retired people play it and only rich play it," Sohail said during a promotional event of the film.
"We want to break this myth and we want to encourage kids in schools and in colleges so that they can start coming and playing the game. Investment on golf is huge. With this film we want to establish it as a common man's game. Talking about the film's storyline, Sohail said, "In the movie, the actor starts playing golf (which is) considered to be a rich man's sport, and reaches the national tournament. It's basically a inspirational film."
Sohail said it took him two-three years to develop the film. "It is a humane story. It is a sports comedy. Sports for the inspiration and comedy for the entertainment." The director said when he told Nawazuddin that the film is on golf, the 'Bajrangi Bhaijaan' actor started playing golf. "Our basic story is that the character does not know how to play golf and but starts playing it. He was kind of perfecting his swing...He is gifted... When Nawazuddin started (acting in the film) he was like becoming a professional getting follow through right, then I told him you should look raw in the film."
Arbaaz Khan, who has also acted in the film said, "It is a very simple but classical plot of our underdog who reaches the top. Golf is the backdrop of the film.. We have simplified the game in our film and even those who do not know the sport will be able to understand the game. It is a story of a winner who faces struggles and who finally reaches his goal. It is a wholesome entertainer drama mainstream, comedy." "Playing golf was not easy. It is a technical game. I had seen it only on TV," Nawazuddin said. Also starring Amy Jackson and Nikitin Dheer, 'Freaky Ali' is scheduled to release on September 9.
With IANS inputs