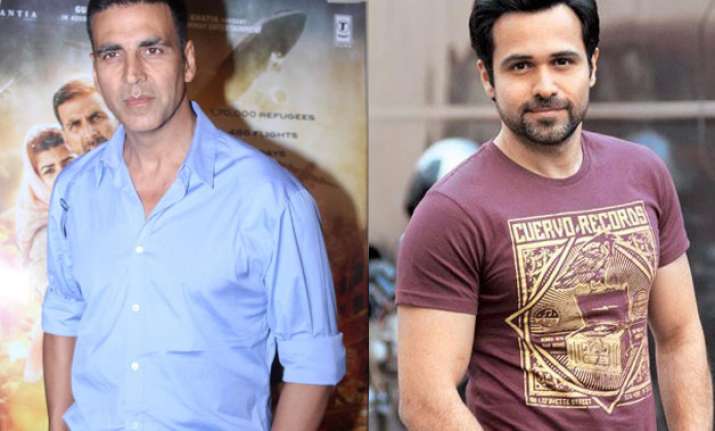 New Delhi: Bollywood actor Emraan Hashmi has recently turned author and made it big in the tinselvile with his first book.
Emraan's debut book is the journey of his son's battle with cancer and the actor has titled it as 'The Kiss Of Life — How A Superhero & My Son Defeated Cancer'.
While it has been co-authored with Bilal Siddiqi, the book has another interesting feature – the foreward (introduction).
Wondering what is so special about the introduction about Emraan's book?
Well, the introduction has been by written Akshay Kumar.
"Approaching Akshay was something I had in my mind since January last year when I was working on the book. Hussain Zaidi, too, suggested that Akshay would be a great person to write the foreword. That just confirmed my opinion. Also, Akshay had reached out to me in my time of need. After the book was completed, I met Akshay and asked him whether he would write the foreword. He agreed immediately and wrote it in two days," said Emraan.
The 'Jannat' was totally overwhelmed after reading the foreward written by Khiladi Kumar.  
He stated, "It is very touching…very emotionally charged. It reflects the essence of the book. The book is not just about dealing with the disease, but it's also about what we can do as a family as a unit among other things. And the foreword brings that out."
Here is an excerpt from the foreward written by Akshay Kumar:
"When I heard of Ayaan's diagnosis, I felt as if I had been punched in the stomach. I remember I was driving at that time. I pulled over, found Emraan's number and called him immediately because I know what it's like to have someone you love deeply fall prey to this disease."
Not many people are aware of the fact that Akshay lost his father due to cancer. In fact, Emraan Hashmi too didn't know about this.
"I didn't know that. For me, this phase has obviously had a huge impact on my family. As for Akshay, he is among the healthiest people in the industry. Through the book, we wanted to focus on various issues like why it happened in the first place and aspects like genetic predisposition and what we can do to be aware and take all necessary precautions," the actor was quoted saying.
Currently, Emraan Hashmi is busy with his forthcoming, where he plays the role of former cricketer Mohammad Azharuddin in the biopic 'Azhar'.