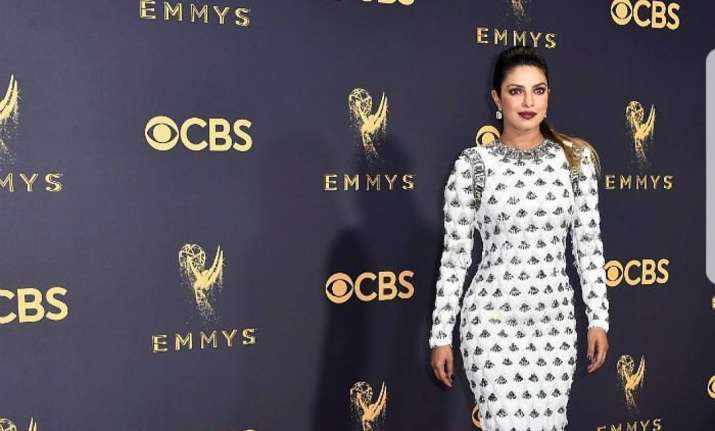 Bollywood actress Priyanka Chopra looked beautiful as she walked the red carpet of Emmy Awards 2017. She came on the stage to present the award for Outstanding Variety Talk Series with Anthony Anderson. But, while announcing the name, the announcer missed out R from Chopra and pronounced it as Chopa. As the video of the event surfaced on social media, people started teaching Emmy, how to pronounce the name.
One of the tweets reads, "Did this dude just call her "Priyanka Chopa"?"
There's an 'R' in Prianka's last name, announcer. #Emmys

— The Undefeated (@TheUndefeated) September 18, 2017
Hey #Emmys is @priyankachopra's name REALLY that hard to pronounce? CHO-PRA !! Not "Choppa" My Nana would be so pissed right now pic.twitter.com/dPBgBne4iQ

— 🇨🇦Leena 🇮🇳🇵🇰🇸🇬♥️ (@CrazedIndianW) September 18, 2017
Aziz Ansari
Kumail Nanjiani
Priyanka Chopra
Riz Ahmed

When I was a little girl this was but a dream.#Emmys #SouthAsiaRepresent

— Natasha Fatah🏳️‍🌈 (@NatashaFatah) September 18, 2017
Have a look at the clip in which the announcer mispronounced Priyanka'a name.  
.@priyankachopra and @anthonyanderson present the award for Outstanding Variety Talk Series at the #Emmys #PCatEmmys pic.twitter.com/XMuzYotLll

— Team Priyanka Chopra (@TeamPriyanka) September 18, 2017
Priyanka was looking gorgeous in the beautiful while attire. She gave the award to John Oliver for Outstanding Variety Talk Series but seems that this time also something else attracted everybody's attention.
Priyanka is a well-known name in the west, courtesy, her show Quantico. Apart from it, she also did a Hollywood flick Baywatch. Thus, her name being wrongly pronounced at the prestigious award show came as a big surprise.
This is the second time Priyanka attended Emmy Award. Last year, she donned a beautiful red attire and presented the award with Tom Hiddleston.
Emmy Awards 2017 was a glittering ceremony with Big Little Lies and The Handmaid's Tale dominating the winners list. Bagging the awards in category like Best drama series, Lead actress in a drama series, Directing for a drama series, The Handmaid's Tale left behind many shows.