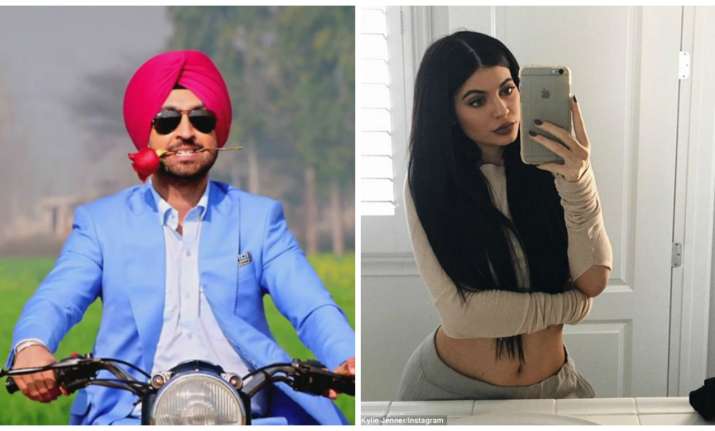 Actor-singer Diljit Dosanjh's obsession with Kylie Jenner is a well-known fact. Diljit who often comments on her posts over various social media platforms, says he feels good after seeing photographs of the American reality TV star.
Asked about Kylie's pregnancy news, Diljit said: "I am a fan of Kylie Jenner. It's her life. That's good news (if she is pregnant). Obviously, I am happy for her. "If she is pregnant why will I be sad? I am still her fan… She can get pregnant for 20 times. I just like her, there are no expectations that I have from her. When I see her, I feel like I really know her. I feel good after seeing her (photographs)."
Oh Tera Bhala Ho Je🤣🤣 Ah Kiney Bana Ti😂🤣🤣👏👏 #HatdiNiTu pic.twitter.com/VEIBYAZEcH

— DILJIT DOSANJH (@diljitdosanjh) April 5, 2017
On work front, Diljit is currently shooting for "Soorma"- a biopic on the life of former Indian hockey captain Sandeep Singh. "I never knew that Sandeep Singh is my fan as I had never met him earlier. But his life story is really amazing. Whatever he has done in his life, nobody else could have done that. I don't know how he managed to stood on his feet even after being hit by a gunshot (in 2006)," Diljit said. 
Diljit, who has previously appeared in Bollywood films like Udta Punjab and Phillauri, will be seen alongside Taapsee Pannu, Angad Bedi and Vijay Raaz among others in Soorma. The film will release in July next year.
Well, Diljit again posted a comment on Kylie's Instagram picture, writing a long message in Punjabi. Dear Diljit, if you really want her attention, start writing in the language she understands.
(With IANS inputs)